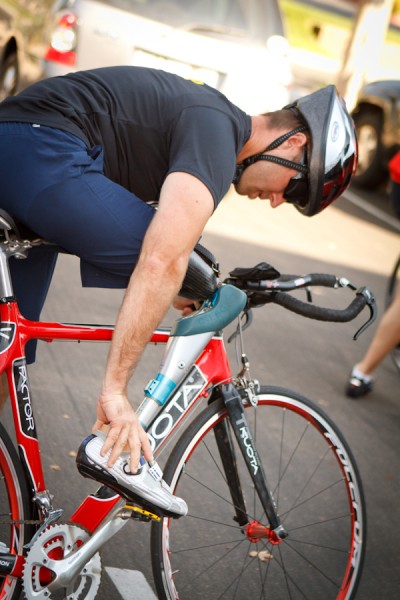 San Diego event is an official technical training camp of USA Paratriathlon
he Challenged Athletes Foundation® (CAF), a world leader in creating athletic opportunities for individuals with physical disabilities, will hold its seventh CAF Dodge Paratriathlon Camp August 15-18 in San Diego. Also known as the "Camp of Champions," the program has helped develop numerous U.S. National Paratriathlon Champions and allowed dozens of other athletes become more confident and proficient in the sport of paratriathlon – which will make its inaugural appearance at the 2016 Summer Paralympic Games in Rio de Janiero.
The CAF Dodge Paratriathlon camp will take place just weeks after 45 paratriathletes competed in the Accenture Challenged Athletes National Championship at the Aquaphor New York City Triathlon, a second-year event that is the only triathlon to offer prize money to challenged athletes.
This year marks the 20th Anniversary for Challenged Athletes Foundation and 20 years of developing and promoting the sport that has become known as paratriathlon. "CAF has been at the forefront of the paratriathlon movement and has helped athletes around the world to exceed their limits by pushing themselves harder and defying boundaries," says Virginia Tinley, Executive Director of CAF. "It is because of programs like the Dodge Paratriathlon Camps that the interest in paratriathlon has grown and the sport has risen to the level of being incorporated in the Paralympic games."
The 45 challenged athletes will attend the two-and-a-half day CAF Dodge Paratriathlon Camp, where coaches will include Mark Sortino and John Murray (USAT Level II coaches from the Multisport Performance Institute), Peter Harsch, CP (a 12-time Ironman finisher and an internationally recognized expert in amputee running) and Carlos Moleda (a four-time Ironman World Champion in the handcycle division).
A camp of this breadth and depth usually would cost an athlete thousands of dollars; however, thanks to a global partnership with Dodge, CAF is able to offer this exceptional camp to 15 athletes across the United States free of charge – including travel, meals, and lodging. The camp is open to all paratriathlon classes.
"CAF has its roots in triathlon, so it is only natural that we would focus on the emerging sport of paratriathlon," said Roy Perkins, Senior Director of Programs and Marketing at CAF. "By providing high-quality resources to paratriathletes — like the CAF Dodge Paratriathlon camp and access to needed equipment — we are doing our part to help paratriathletes succeed at all levels, from their local sprint to the Paralympic Games."
Participants at the CAF Dodge Paratriathlon Camp will receive:
Elite-level coaching from USA Triathlon-certified coaches

On-the-road and classroom sessions focusing on technique, nutrition, building and executing an effective training plan, and race strategy

Video swim analysis

Personalized bike, handcycle and racing chair fitting

Running and racing chair technique analysis

Mentoring and encouragement from World Champion and world-class challenged athletes
Image courtesy Challenged Athletes Foundation