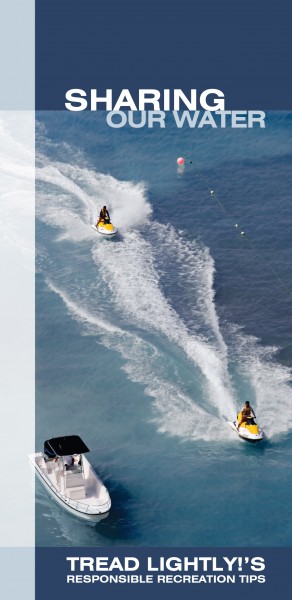 Tread Lightly!, has released Sharing Our Water, the latest addition to their responsible recreation Quick Tip Brochures series.
"As summer really heats up and lots of people head to some sort of body of water to try to cool off, we're pleased to unveil our newest brochure – Sharing Our Water," said Lori McCullough, Tread Lightly!'s Executive Director.  "While enjoying the great outdoors, it is very important to minimize one's environmental impacts, but social conflicts are also problematic so this new educational resource contains a set of tips that provides diverse water recreationists – from anglers to non-motorized or motorized boaters – tips on how to interact with others while enjoying America's waters together."
Research shows that issue specific information is more effective in promoting responsible and respectful behaviors as opposed to targeting a specific recreational activity.
Tips such as being aware of your wake, never fishing in swimming areas and being aware of other boat traffic are meant to educate everyone to recreate responsibly, keeping everyone safe and keeping waterways open for public recreation.
"Historically, Tread Lightly!'s tips have been a popular education item," said Jason Ketterick, Tread Lightly!'s Education and Stewardship Programs Manager. "The brochures provide a quick and easy way to reach out to other recreationists. Whether they're shared in a pass-along fashion or they're offered on the desk of the recreation facility – they're an excellent resource for anyone involved in outreach or concerned with stewardship of our waterways."
The new brochure can be downloaded or ordered from the Tread Lightly! store for free.
For more recreation tips and PSAs visit www.treadlightly.org.
Image courtesy Tread Lightly!