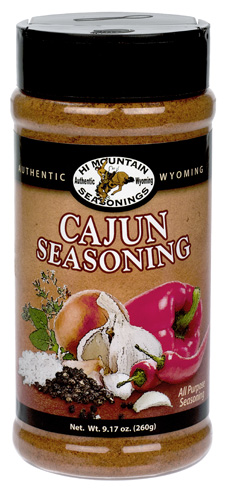 Hi Mountain Seasoning continues to expand its Ethnic Seasonings line with the addition of its new Cajun Seasoning. This seasoning combines the classic Cajun flavors—which date back to the early 1700s—into a perfect balance to give your meals an authentic Louisiana flair.
With red peppers, black peppers, white peppers, salt, garlic, onion and sugar, this new Cajun Seasoning offers a big, bold French-Acadian flavor. Ideal for a seafood boil, jambalaya or gumbo, Cajun Seasoning will tantalize taste buds with the rich flavors of Louisiana. Sprinkled on any dish, the Cajun Seasoning will add a little kick. The new Cajun seasoning is sure to be a hit for those that like it hot—or even warm, depending on how much you use.
With the addition of the Cajun Seasoning, Hi Mountain now offers four Ethnic Seasonings in its line: Italian Herb, Taco, Fajita and Cajun. All four are available at retailers nationwide and has a suggested retail price of $8.99 for the 9.17 oz. shaker. French-Canadian versions are available in Canada.
You don't have to travel to Louisiana to get the traditional Cajun cooking anymore. Just cook it up yourself with the new Hi Mountain Seasonings Cajun seasoning.
Hi Mountain's entire line of products, cooking tips, instructional videos, and recipes are also available at www.himtnjerky.com, and the products can be found at high-quality sporting goods stores, farm and ranch stores and your local grocery stores.
Located in the heart of Wyoming, Hi Mountain Seasonings was founded in 1991. It is the premier manufacturer of kits for homemade jerky and sausage. Hi Mountain Seasonings has successfully captured distinct, traditional Western flavors in its jerky cure & seasonings, Western-style seasonings, bacon cures and other products that make up the unique line of gourmet Western seasonings. In 2011, Hi Mountain Seasonings introduced a line of delicious freeze-dried Camping Meals. For additional information, write: Hi Mountain Seasonings, 1000 College View Drive, Riverton, WY 82501; call toll-free 1-800-829-2285; or visit the company website at www.himtnjerky.com.
Image courtesy Hi Mountain Seasonings