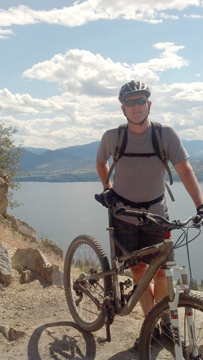 FIRST DESCENTS, a Denver-based non-profit organization providing free outdoor adventure therapy for young adults fighting and surviving cancer, is excited to announce a new Team FD event, SAW (Singletrack Across Washington).
FIRST DESCENTS' medical director, Larry Smith, MD, has always wanted to ride his mountain bike on the Washington portion of the Pacific Crest Trail that runs north to south through the state. However, the only approved travel on the trail is by foot or horseback.
So, this year, Smith hatched a plan that he's coined SAW (Singletrack Across Washington.) The mission: mountain bike from Canada to the Columbia River in an area close to the Pacific Crest Trail via as much dirt (and as little pavement) as possible to raise money for FIRST DESCENTS.
Smith is attempting to raise $5,000—enough money to send five young adults on a FIRST DESCENTS kayaking, climbing or surfing program. "As I look forward to hitting the trail August 6th, I am also looking forward to fundraising to allow more young adults to attend these truly amazing programs," says Smith about the ride.
Smith started his tour on August 6th and is hoping to complete the 500 mile ride within 15 days.
Check out Smith's video and learn more about SAW, here: http://youtu.be/UqYPl0n-D3Q. Or to donate to Smith's fundraising efforts go to: http://teamfd.firstdescents.org/2013/fd/singletrackacrossWA.
For interview opportunities, please contact [email protected].
Image courtesy First Descents