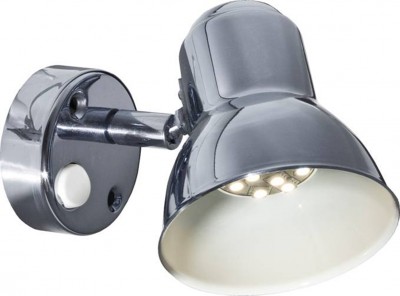 Now 40% brighter than previous models, the FriLight Classic 8400 12V LED Light from SalVinCo offers a true classic design. The compact metal reading fixture features a rocker switch. Each light includes an energy efficient 15 SMD G4 LED bulb, which is equivalent to a 12-15 watt halogen bulb.
This surface-mount light swivels right to left, up and down. It's available with cool white LEDs or warm white LEDs. In addition, it is also offered as switchable from red to warm white LEDs or blue to warm white LEDs.
Measuring 2.36″ wide and 3.78″ tall, the Classic 8400 has a maximum extension of 4.33″. The fixture is available in brass or chrome.
SalVinCo's FriLight LED lights provide low power consumption, since LEDs use up to five times less power than the equivalent halogen and xenon bulbs. With minimal heat dissipation, LEDs help keep cabins cooler. Shock-resistant, LEDs have no filament or glass to break. Environmentally green, LEDs don't contain any mercury, unlike fluorescent bulbs.
The FriLight Classic 8400 12V LED Light from SalVinCo has a MSRP of $86.
Contact SalVinCo, LLC, 8223 Blaikie Ct., Sarasota, FL 34240. www.salvinco.com. OEM inquiries: 941-378-9727; retail inquiries: www.salvinco.com/where-to-purchase.
Image courtesy SalVinCo