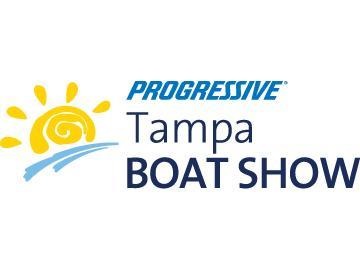 2013 Progressive Insurance Tampa Boat Show Docks Sept. 6-8 with Deadliest Catch Star in tow, hundreds of new boats for sale, and variety of activities to get on the water
This year's Progressive Insurance Tampa Boat Show, the region's premier boat show, makes a splash September 6-8, showcasing the best of boating with hundreds of new vessels to shop, plus the latest marine accessories and aquatic attractions for all ages.
According to show manager Larry Berryman, the 48th annual event is a three-day boating extravaganza featuring activities for anyone interested in the boating lifestyle. "From fishermen to divers and novice boaters to experienced captains, the Progressive Insurance Tampa Boat Show has a wide range of activities to entertain and educate people of all ages and experience levels, including on-the-water training, a chance to SCUBA, dozens of boating and fishing seminars, and much more."
Johnathan Hillstrand from Discovery Network's Deadliest Catch will be on hand for interviews and autographs. Anyone 10 and older can take the plunge and discover the world of diving in the heated, 15,000-gallon 'Be a Diver' Pool.
And, attendees can hone their boating skills with one- and three-hour power boating workshops through the Discover Boating Hands-On Skills Training series. Boating courses along Tampa Bay cover topics such as Basic Docking and Fundamental Boat Control; Open Water Boat Handling & Safety; and Anchoring and Multi-Vessel Rafting Techniques.
Attendees can also explore Fred's Shed DIY Seminars & Interactive Learning Center for free professional advice and hands-on clinics on boat maintenance, repair and upgrade techniques; as well as visit the Fishing Center for seminars covering topics for every angling enthusiast.
In the market to buy? Hundreds of new boats from the region's top dealers will be on display in- water and inside the Tampa Convention Center, from luxury yachts and fishing vessels to family cruisers, plus booths filled with cutting edge marine accessories and electronics.
"If you're in the market for a new boat, or the latest nautical toy, the Bay Area's largest boat show won't disappoint," said Berryman. "The exhibiting dealers are bringing more boats–bigger boats–than they have in nearly a decade."
For tickets and details, visit TampaBoatShow.com.
Key Show Facts
WHEN:
Sept. 6-8, 2013
Friday: 10:00am–8:00pm
Saturday: 10:00am–8:00pm
Sunday: 10:00am–6:00pm
Note: In-water area closes at sunset
WHERE:
Tampa Convention Center
333 South Franklin St.
Tampa, FL 33602
TICKET INFORMATION:
Adults 16 and older: $12
Youth 15 and under: FREE (when accompanied by an adult)
Discounted tickets available for all members of the military with proof of valid ID
Purchase tickets at TampaBoatShow.com, at the show box office, or by calling 954-441-3220.
Purchase tickets online before Thursday, Sept. 5 for a $2 discount.
Web: Visit TampaBoatShow.com; follow the Show on Twitter; find us on Facebook.
Logo courtesy Progressive Insurance/ Tampa Boat Show