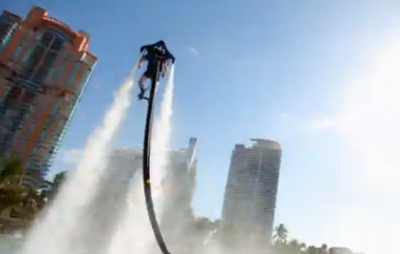 The Jetlev pack, which allows people to fly above water using a backpack powered by pumping water through a hose, have become popular in vacation hot spots. Coming onto the market in 2011 for a cost of up to $100,000 through Jetlev Technologies, Inc., the product is now available for widespread consumer use.
The pack is attached by a hose to a small boat that is unmanned, giving people full control of the height and speed they travel–up to 30 feet high and 25 miles per hour.
Despite the high number of people who pay big bucks to live out their dream of flying, safety and environmental concerns surrounding the packs have been raised recently in Honolulu. Hawaii's Department of Land and Natural Resources, influenced by the high number of jet packs in the area, chose to hold a review period in July that would help determine whether or not the packs needed to be regulated in some way.
"The issue is that it's a new activity," William Aila Jr., chairman of the state agency's board, told The Wall Street Journal. Findings and determinations have not yet been released, and the packs continue to be used in the area.
Aila said a jet pack was flown on Oahu's North Shore, a place that is a dedicated fishing harbor where motorized watercraft are not permitted, and that's why the conversation began. He said fisherman have criticized the packs because fish are scared off by the noise, decreasing their catches.
"Jet packs also can destroy fish larvae sucked into the propulsion tubes, while putting more pressure on already fragile coral reefs around Hawaii, said Robert Richmond, a research professor at the University of Hawaii's Kewalo Marine Laboratory," the WSJ stated.
Oahu's Seabreeze Water Sports, which caters to about 10 Jetlev customers each day, offers rides that can cost more than $250 and last 25 minutes.
According to a report by the Associated Press, San Diego, Key West, Florida, and Cancun, Mexico are just some of the places where the Jetlev has reached the status of a mainstream activity.
"It's an exciting tourist attraction, which brings business to cities," Katie Morris, co-owner of Jetpack America LLC, an operator of the devices based in Newport Beach, told the WSJ. No serious injuries have been reported because of using these jet packs.
Image is a screenshot from video by devinsupertramp on YouTube