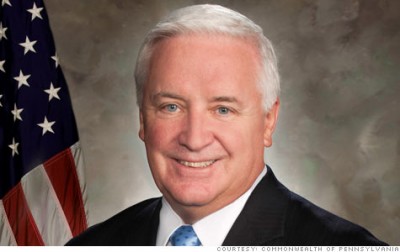 Governor Tom Corbett began a three-day tourism promotion trip of central Pennsylvania today in Huntingdon County to highlight Pennsylvania as a top destination for in-state and out-of-state travelers.
"The tourism industry is critical to our economy and our communities, supporting more than 1,000 jobs in Huntingdon County," Corbett said. "I want to bring attention to this industry, do my part to support getting the word out on all Pennsylvania has to offer and encourage out-of-staters and in-staters alike to explore Pennsylvania."
Tourism is Pennsylvania's second largest industry, directly providing nearly 300,000 jobs across the state.
Corbett began the day with a morning paddle on the Juniata River. He was joined by Senator John Eichelberger (R-Huntingdon), members of the Huntingdon County Visitors Bureau, the County Planning Commission and Juniata Clean Water Partnership.
With more than 85,000 miles of rivers and streams and 76 natural lakes, Pennsylvania brings in an estimated $3.3 billion in economic benefit from fishing and boating activities. Pennsylvania has about 340,000 registered boats, and in 2012, the Fish and Boat Commission sold more than 40,000 launch permits for unpowered boats like kayaks and canoes.
"I take these trips to showcase Pennsylvania as a vast state with an abundance of things to see and do," Corbett said. "There are so many different ways to enjoy Pennsylvania and I am grateful that, for the third year in a row, I can highlight the state's rivers and lakes, state parks and other tourism attractions."
After leaving the water, the governor addressed members of local tourism and preservation societies and local business owners at a luncheon at Riverside Park, sponsored by the Huntingdon County Visitors Bureau.
During the luncheon the governor re-affirmed his commitment to the industry.
"Tourism is a big part of Pennsylvania's economic comeback, responsible for an estimated $3.8 billion in state and local tax revenues," Corbett said. "Working together, we can continue to grow this industry for Pennsylvania and all those it employs."
This year's state budget dedicates more than $7 million for tourism marketing across the state. Corbett has also led the way in creating the Pennsylvania Tourism Partnership, which will leverage private and public dollars to provide a more stable funding source for our tourism promotion efforts.
The governor spent the afternoon at several Raystown Lake attractions. Raystown Lake, the largest lake entirely located inPennsylvania, logs almost a million visitors each year. Operated and maintained by the Army Corps of Engineers, Raystown features 29,000 acres of recreation space including picnic facilities, campgrounds, playgrounds, swimming areas, multi-use trails, boat ramps and marinas.
In addition, the governor toured the Welcome Center and Museum and met with lake visitors at the Seven Points Beach and Raystown Lake Marina.
"Breathtaking tourist destinations like Raystown support a high quality of life for nearby residents as well as continued success of Pennsylvania's tourism industry," Corbett said. "More than 980,000 people came to visit this area last year, each spending money and supporting local hotels and small business. Last year alone, the lake resulted in more than $28 million in visitor spending."
Raystown Lake is also home to the Allegrippis Trails, a 30-mile trail network contained entirely on the Raystown Lake property. Owned by the Army Corps of Engineers and leased to the Friends of Raystown Lake, the trails have attracted more than 25,000 visitors and brought $1.2 million in spending to the region.
Just before departing Raystown, Corbett had the opportunity to send off a group of mountain bikers for an evening ride on the trails. Mountain biking is estimated to be Huntingdon County's largest growth segment of general outdoor recreation activities and leisure travel attractions.
Later tonight, Corbett will visit the Huntingdon County fair. He will tour the grounds with Agriculture Secretary George Greig, Sen. Eichelberger and state Rep. Mike Fleck (R-Huntingdon).
The governor increased fair funding this year to $3 million and will present a check for Huntingdon County's share during a ceremony at the Midway Stage. The governor will also present the Outstanding Fair Ambassador Award.
State officials joining the governor today included: Department of Conservation and Natural Resources Acting Secretary Ellen Ferretti, Department of Community and Economic Development Deputy Secretary for Tourism Carolyn Newhouse, and Pennsylvania Fish and Boat Commission Executive Director John Arway.
Image courtesy Pennsylvania Office of the Governor/ http://www.governor.state.pa.us