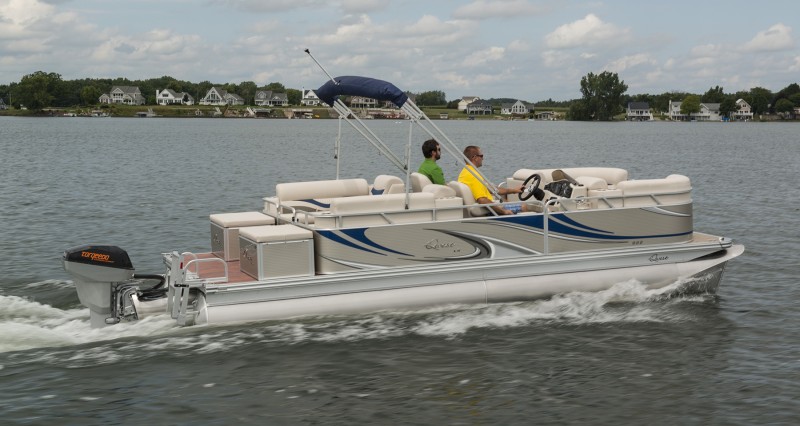 Torqeedo and Apex Marine have joined forces to combine the award-winning Deep Blue 80hp all-electric propulsion system with the new 822TT RLS Triple Tube Pontoon Boat. The 22′ craft delivers an unparalleled ride experience in a leading-edge, zero-emission watercraft.
Apex Marine's compact and lightweight pontoon boats are an ideal match for electric propulsion. The triple tube design combined with Torqeedo's powerful Deep Blue allows for quicker planing and greater speeds for boaters who enjoy water sports. This boat can reach speeds of up to 25 mph. The triple tube allows the boat to carry more people and cargo and the quiet electric propulsion system offers a tranquil, nature-filled boating experience when used at cruising speed.
"Torqeedo's motors combine two innovative technologies: electric propulsion and lithium-ion batteries, and provide the most efficient and safe system ever delivered to the marine market. Clean, low-maintenance and fun, these are the marine technologies of the future and Apex wants to lead this shift," said Scott Dosson of Apex Marine. "There are plenty of customers interested in this green solution."
"When owners buy a Torqeedo electric motor, they're also buying fuel for life. There are no gas cans, no flammable fumes and little winter maintenance. Charging the battery fully only costs about $2.50 and can last you a whole day of fun on the water if planned right," said Dosson.
"We're thrilled to continue our partnership with Apex Marine," said Steve Trkla, president and general manager of Torqeedo's North America division. "There's a market for this package and not just in green lake boating. Recreational boaters looking for thrilling fun on gas lakes will get the speed and adventure they're looking for, together with the cachet of owning a cutting-edge system that's unique, incredibly well-engineered and environmentally-friendly."
"We're confident in the strength of the pontoon market," continued Trkla. "It's the strongest sector in the marine industry and baby-boomers will continue to drive that growth."
The 822TT RLS features a pair of rear-facing lounge seats, stainless steel hardware and multiple storage spots. All seats are vented for mildew prevention and easy wash-down.
The lightweight Deep Blue motor weighs only 276 lbs. while a single battery weighs 328 lbs. The lithium-ion battery comes with a 9-year capacity warranty.
Contact Torqeedo Inc., 171 Erick Street Unit A-1, Crystal Lake, IL 60014. 815-444-8806; Fax: 815-444-8807. [email protected]; www.torqeedo.com.
Contact Apex Marine, 300 Woodside Drive, St. Louis, MI 48880. 989-681-4300; Fax: 989-681-4333. [email protected]; www.gillgetter.com.
Image courtesy Torqeedo