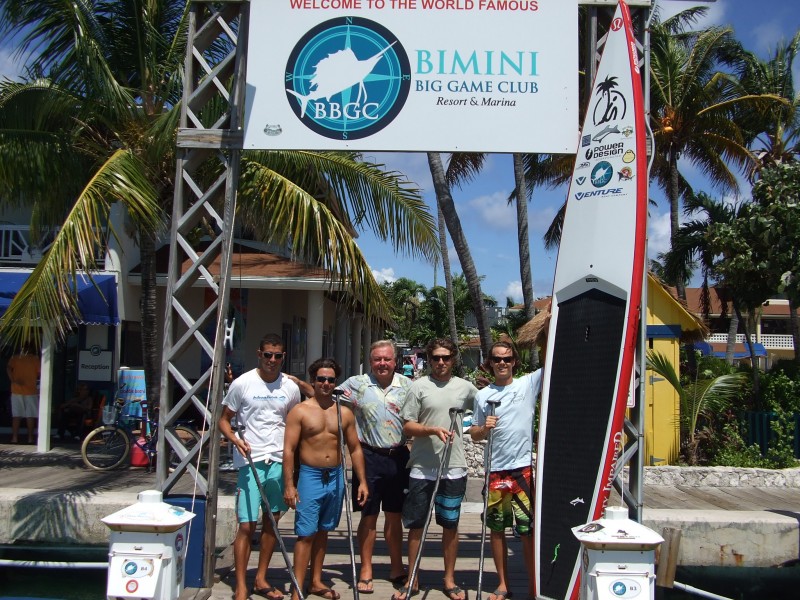 Four South Florida watermen will begin paddling from the historic Bimini Big Game Club Resort & Marina midday Friday in an epic 24-hour, 90 mile journey that will not only test their endurance but raise awareness for cystic fibrosis and hope for a 5-year-old child suffering from the disease.
Participating in this "Crossing-For-A-Cure" are Travis Suit, father of Piper Suit, diagnosed with cystic fibrosis in 2011, and local paddlers Shane Pompa, Joseph Morel and Kyle Igneri.  The men, referred to as "Piper's Angels," were captivated by the cause and Suit's passion, volunteering to not only join for this journey, but to partake in an upcoming documentary on parents and how to deal with children diagnosed with cystic fibrosis.
If all goes right, the four men are expected to land on Saturday at the Lake Worth Inlet where well-wishers and family will be waiting at the Tiki Waterfront Seagrill for an early afternoon arrival.
Earlier this month, a Tennessee musician became the first paddleboarder to cross the Florida Straits Between Cuba and the United States, making the 110-mile journey in 28 hours.  Last year, two Miami watermen crossed the Gulf Stream from Bimini to Miami Beach in 17 hours.
According to Suit, the goal behind this Crossing-For-A-Cure is to raise revenue and increase awareness for cystic fibrosis, the most common chronic lung disease in children and young adults.  Piper Suit was diagnosed with cystic fibrosis in November 2011 after numerous doctors first diagnosed her symptoms as normal childhood illnesses.
Sponsors for the crossing include the Bimini Big Game Club Resort and Marina, Tropically Impaired, Paddle Boarding Palm Beach, Sun Bum, Iron Lion Fitness Studio, Tito's Handmade Vodka, Venture Boat Company, Jimmy Lewis, Reflekt, NEILPRYDE, Power Design, Keiser University, and Blueline Stand-Up Paddle Surf & Clothing.
For more information on Crossing-For-A-Cure and how to donate for the cause, visit www.crossingforacure.com.  For information on the Cystic Fibrosis Foundation, visit www.cff.org. Bimini Big Game Club Resort & Marina www.biggameclubbimini.com.
Image courtesy Bimini Big Game Club