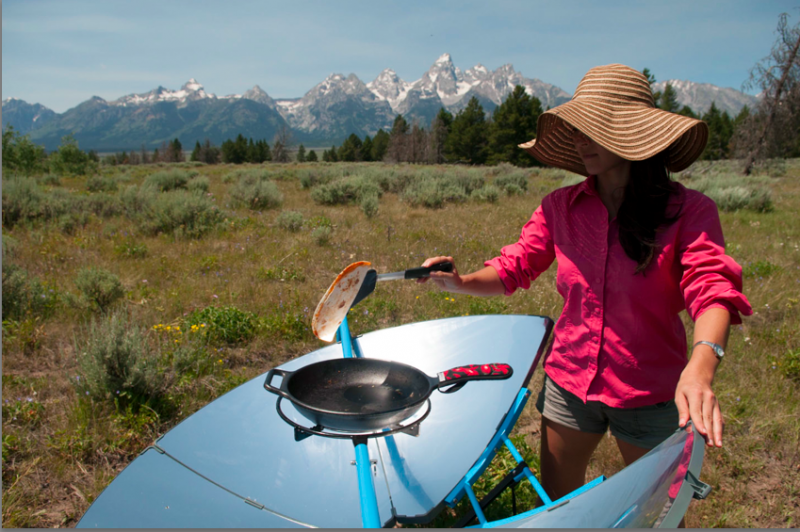 Catlin Powers said One Earth Design's idea for a solar grill first came about when she was in college studying climate change in western China. One day during her stay, she was invited back to the home of a nomadic family where a conversation began about the amount of air pollution in the region. She recalled that one man scolded her and other scientists for focusing their attention on the pollution that was occurring outside the homes rather than inside of them.
"It was extremely polluted," said Powers, who ran tests with the assistance of the villagers that showed the air was 10 times more polluted inside these homes than the air in Beijing. "More than half a million people were dying in China every year from indoor air pollution. I stopped everything I was doing and put my attention on finding a solution."
This indoor air pollution she spoke of comes from toxic smoke that is emitted from stoves. Worldwide, 4 million people die from toxic smoke every year.
Developing a solar cooker was certainly not a brand-new idea, but most of the models on the market were not effective and broke easily. Powers, as part of a team from One Earth Designs, set out to create a solar cooker that could withstand the elements, decrease air pollution, and meet the needs of people in western China.
"Every year in western China enough sunlight falls on the Himalayan Plateau to replace 170 billion tons of coal," Powers said in speech that is available to watch on YouTube. This fact showed that not only was this region an appropriate location to root the development of an efficient solar cooker, but because of her discoveries regarding high air pollution in the area, these people had a dire need for change.
After five years and 13 prototype generations with 54 different variants, SolSource is now owned by more than 1,000 families in western China since its release several months ago.
"After one person in a village would get it, they would get so much interest from neighbors that they would come back asking to buy more to resell in their communities," said Powers, mentioning many families in western China save as much as $50 per month because of the fuel they no longer have to purchase.
According to the Kickstarter page, "Everyday, SolSource cooks food for large Himalayan families. It withstands sand storms, wind, snow, and -40 degree temperatures. We've used it around the world, from grilling Kobe beef on the streets of Japan to making popcorn on the Mall in Washington, DC. Just point it toward the sun and start cooking. As long as you can see your shadow, you are good to go."
Powers said the idea of starting a Kickstarter campaign first began when One Earth Designs ran into the challenge of how to produce these solar cookers in mass quantities.
"By backing our Kickstarter project you'll help us fund the first production run and enable people around the world to cook with the sun," the Kickstarter description stated. "Our goal of $43,000 will cover the significant costs of tooling and production line setup, materials, making the components, labor for assembly, and shipping."
In order to help offset costs to their low-income customers in developing regions, One Earth Designs is expanding SolSource sales into new markets such as grilling and camping.
"It is a great product for car camping and packs down into the size of a guitar case," Powers said.
"SolSource is [more than] 90 percent efficient at capturing solar energy and reaches the same temperatures as a standard gas grill," Powers said. "Our nomadic customers use it for boiling, steaming, frying, and baking. Our U.S. customers use it to sear steaks, plank smoked fish, and [make] veggie-tofu skewers."
Of the $43,000 goal set on Kickstarter, $142,413 was raised. The funding period ran from June 10 through August 2 and the goal was passed within the first seven days. Pre-ordering is still available on the website through August 15, and this includes the pre-order price. The SolSource and cover is $399, with other product buying options listed on the website as well. Make sure to note the international shipping costs that are included on the ordering page.
Because the SolSource harnesses one kilowatt of energy, Powers said they have plans in the works that will use this energy to run electric, heating, and water purification units.
For more information on SolSource, check out the website.
Images courtesy of Catlin Powers