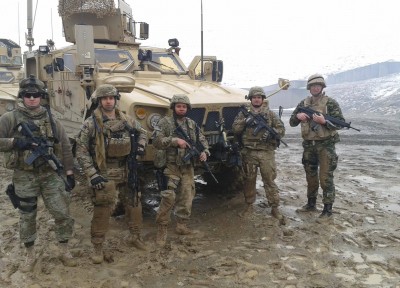 Donation Program Sends a Solar Shower to a Soldier in Need
CampGear.com has launched a new initiative to benefit soldiers stationed overseas. Teaming up with Coleman, CampGear.com will be sending out one Coleman Solar Shower to a soldier in need for every purchase on the website over $50 automatically. There is also an option for customers to purchase a shower for $5 to be donated as well without any other purchase necessary.
The donation program is currently live on the website and details and donation orders for the showers can be found at http://www.campgear.com/Showers-For-Soldiers/p627,default,pg.html#sthash.N87a4K35.dpbs.
"We live on the Afghan base that we support and we are supported by their power supply and water supply. Every now and then we lose both due to breaks in the system," explains Staff Sergeant Christopher J AcAleer, who is stationed in Kabul, Afghanistan as a Combat Arms Air Advisor, "The Solar Showers will help us make the quality of life a little brighter during those down times… From all of us here in Kabul we really appreciate the donations and your continued support. "
SSgt AcAleer got in contact with CampGear.com through his father, Steve AcAleer, who reached out to the site asking for help improving the day to day life for soldiers overseas. He explained how it can at times be difficult for his son and other troops to get clean water for showers. CampGear.com stepped up and partnered with Coleman to send out 5 Gallon Solar Showers that hold clean water and are heated by solar power so they can be used during power outages.
"We are so proud to support our troops stationed overseas. Every soldier deserves clean water for showering everyday and we're happy to provide them with a way of doing so through these Coleman Solar Showers," says Andy Schepper, Vice President of Operations at CampGear.com, "It's great to be able to participate in something that benefits the troops directly and helps to improve their living conditions while serving our country."
Image courtesy CampGear.com