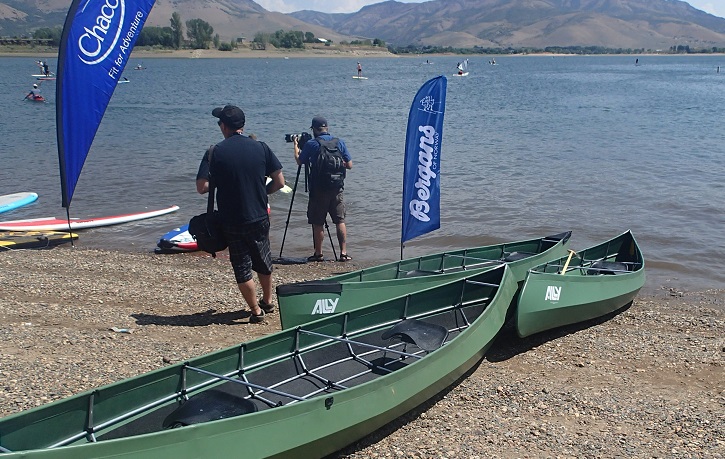 Bergans of Norway is not only known for creating outerwear, tents, and packs, but also the folding canoe that is quickly rising in popularity.
"ALLY canoes are our folding boats," said Keith Patterson, vice president of sales and marketing for Bergans of Norway. "We have two different styles. One is an all-around boat at the other is a flat water boat. Both of them will basically pack up into a large army duffle bag. It's easy to store in your garage, easy to store in your trunk."
For those questioning the durability of the canoe because of its folding design, Bergans noted this concern when putting the canoes on the market. According to the website, not only is this a great canoe for all paddling conditions, but it can stand up to the impact of obstacles such as sharp rocks.
"ALLY canoes have an interlocking framework of tubular aluminum stays and ribs held together with spring loaded shock-cords making the canoe easy and quick to assemble," the website stated. "At the bottom, between the framework and the reinforced PVC skin, there is a closed cell foam mat that insulates from cold water and provides flotation. At the same time, it provides shock absorbency from impacting underwater obstacles."
Patterson said because of the PVC skin, any necessary repairs that may need to be done are extremely simple.
"The canoe's flexibility allows it to ride over waves rather than crash into them. Its flexibility also makes encounters with underwater rocks a much less harrowing experience than when riding in a canoe of fiberglass," the website stated. "The reinforced skin is sewn and welded to achieve strength and durability. The ergonomic seats' position may be quickly and easily adjusted from seated to kneeling. The DR (Down-River) models features a reinforced bottom, which gives extra safety when paddling on rocky rivers."
Patterson said the Norwegian company likes to say "The skis go on your roof and the canoe goes in your trunk."
Image by Ariel Black