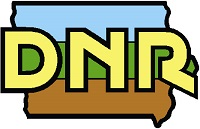 The Lower Des Moines River Valley has been inhabited by people for thousands of years. Learn about the area's ancient inhabitants on a 6-mile float trip in Van Buren County on August 25 from 1:30 to 5 p.m.
The paddling trip will begin at Austin County Park and end at the Keosauqua boat ramp. The event is free but registration is required and participation is limited to 20 boats.
Archaeologists Cherie Haury-Artz and Joe Artz will be the presenters along this beautiful stretch of the Des Moines River that passes alongside Lacey-Keosauqua State Park. They will help participants explore evidence of past glaciers, old towns, Mormon wagon crossings and prehistoric burial mounds. The trip will end in the historic town of Keosauqua.
A limited number of canoes and kayaks are available at no charge for participants who don't have their own.
The paddle is open to everyone; however, children under age 16 must be accompanied by an adult. Registration and additional information is available at www.desmoinesriverWT.com or by calling (641) 472-6177. Shuttle service from the ending point to the launch site will be provided before the paddle begins.  Attendees should arrive no later than 12:30 p.m. After registering, participants will receive a packet with detailed information about the trip, including a map and shuttling instructions.
The Lower Des Moines River Water Trail is one of 19 official water trails in Iowa. This paddling trip is cosponsored by Pathfinders RC&D, University of Iowa Office of State Archaeologist and the Iowa Department of Natural Resources.
Logo courtesy Iowa Department of Natural Resources