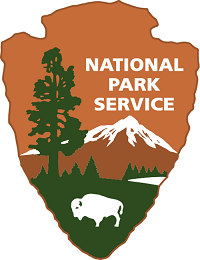 On Friday, August 9 mountaineer and retired Denali State Park ranger Dave Johnston will do a slide presentation on his winter mountaineering experiences on Mt. McKinley and Mt. Foraker. The free presentation begins at 7:00 pm and is taking place in the Denali Visitor Center's Karstens Theatre.
Johnston made history by being part of the expedition to make the first winter ascent of Mt. McKinley on February 28, 1967. He, Art Davidson, and Ray Genet battled high winds, massive snowfall, and brutal temperatures to reach the summit. On the descent they endured additional hardships, as a storm with calculated wind-chill temperatures of -148 degrees (the title of Davidson's book on the expedition) kept the team trapped in an ice cave for six days.
Johnston also made the first ascent on Mt. Foraker's Sultana Route in March 1979, the second winter ascent of that peak. In 2005 he met a life-long goal by becoming the first person to climb to the highest point in all 50 states during the winter. He has also reached those summits in the summer. His wife Cari and son Galen accompanied him on many of the winter and summer ascents.
Upcoming (and final) presentation in the series:
Friday, August 23 – Dr. Terrence Cole, Professor of History and Northern Studies at the University of Alaska Fairbanks will speak about the Sourdough Expedition of 1910, which on April 3 became the first to reach the north peak of Mt. McKinley. This group of four gold miners challenged the peak with the most rudimentary gear and no technical climbing experience. They set out in order to disprove explorer Frederick Cook's claim of reaching the summit in 1906 and demonstrate that Alaskans could outdo the exploits of any "easterners".
Additional park information is also available on the web at http://www.nps.gov/dena or by calling 907-683-9532 from 9:00 am to 4:00 pm daily. Stay connected with "DenaliNPS" on Twitter, Facebook, YouTube, Flickr, and iTunes – links to these social media sites are available at www.nps.gov/dena/connect.htm.
Logo courtesy National Park Service