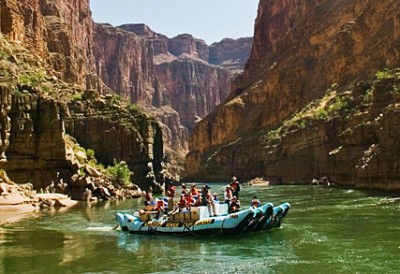 Celebrating over 50 years of navigating the West's wildest rivers, whitewater rafting pioneer Western River Expeditions (http://www.westernriver.com/) announces for 2014 two photo workshops to be held in conjunction with multi-day rafting and camping adventures down the Grand Canyon.
Both trips are seven days, all-inclusive, on-river adventures with world-class photographers Willie Holdman on the first trip and Kerrick James on the second.
The Grand Canyon River Run Workshop from April 3-9 with Willie Holdman is for ages 12 and up. The per person (single or double) rate is $2,655 inclusive all camping and rafting equipment, all freshly prepared meals, guided rafting of the Colorado River for nearly 200 miles over 60 rapids, guided hikes, transfers from a designated hotel to the Las Vegas Airport and a helicopter exit from the canyon at trip's end. Guests can snap on their own cameras waterfalls, turquoise-colored waters, deep-side canyons and grottos filled with ferns and desert wildflowers. Enroute Holdman, who has floated down the Grand Canyon numerous times on photography expeditions, will facilitate an ongoing photography workshop. See: http://www.willieholdman.com/workshop/
In association with Arizona Highways magazine and photographer Kerrick James, the second workshop is May 6-12. Rafting the Grand Canyon Photography Workshop with Kerrick James is for ages 12 and up as well. The per person (single or double) rate includes pre and post-trip workshops and on-location instruction, roundtrip transportation from Las Vegas, outfitter fees and complete camping set-ups, all chef-prepared meals, park and other fees, and one night lodging (May 6) at La Quinta Inn & Suites in Las Vegas. See: http://www.ahpw.org/workshops/2014/Grand-Canyon-Rafting-Colorado-River-Photo-Workshop-2014-05-07/.
Image courtesy Western River Expeditions