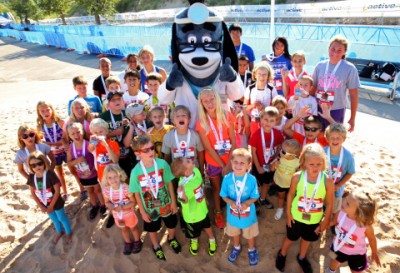 The inaugural UnitedHealthcare IRONKIDS Michigan Fun Run raced around Jean Klock Park Saturday. UnitedHealthcare mascot "Dr. Health E. Hound" helped kicked-off the 1-mile course aimed to help stem the rising tide of childhood obesity through exercise and healthy lifestyles.
UnitedHealthcare is sponsoring 10 IRONKIDS events – nine running races and a triathlon – in seven states. The day's Fun Run included hundreds of young "triathletes to be", ages 3 to 15. The company provided complimentary tickets to the race and weekend-long IRONMAN activities to community organizations, enabling children who often face barriers to good health, to compete in the event.
Children from low-income and low-education households are three-times more likely to suffer from obesity, which is a leading risk factor for diabetes, heart disease and many cancers, according to America's Health Rankings(R), an annual comprehensive assessment of the nation's health on a state-by-state basis. Michigan ranks 24th in the country in childhood obesity, and 12.1% of youth are estimated to be obese.
Click here to subscribe to Mobile Alerts for UnitedHealth Group.
Image courtesy Scott Strazzante/ UnitedHealthcare