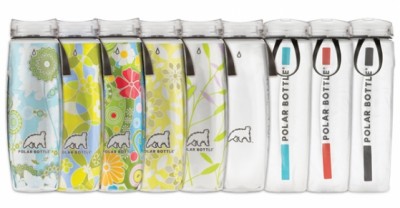 After a successful product launch, Product Architects, Inc. — the parent company behind the Polar Bottle® brand insulated water bottles — has readjusted sales figures for its new Polar Bottle Ergo bottle and reduced the retail cost by 20%.
Originally priced at $18.99, the Ergo is now available for a suggested retail price of $14.99.
Available in a range of colors and graphics — including a new Limited Edition American Flag design — the Ergo water bottle is one of two lifestyle bottle designs the company released late last year. The bottles, currently available online at www.polarbottle.com and select retailers, extends the Polar Bottle brand's growing popularity beyond the cycling and sports industry into the active lifestyle and outdoor markets. The price change, Polar Bottle executives say, will ensure the bottle can compete in these popular markets.
"We've received good reviews from the customers who have purchased the bottle already," said Polar Bottle President Judy Amabile, referring to results from surveys sent to existing Ergo customers.  "We know we have a good product so lowering the price to make the bottle more competitive was just the natural next sales step."
Developed with the same reflective insulation technology as the original Polar Bottle, the new 22-ounce, dual-wall Ergo bottle keeps liquids colder longer than the original. Like the patented Polar Bottle, the water bottle features an insulating layer between two walls of plastic, so it keeps liquids cool twice as long as other water bottles.
The 24/7 bottle can be used for everything from yoga to hiking and camping to running errands around town.  Continuing the Polar Bottle tradition, The Ergo bottle is Made in the USA, BPA-free, Phthalate-free and ultimately recyclable.
Image courtesy Polar Bottles