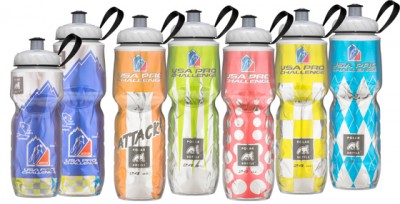 After a successful pilot year in 2012, Polar Bottle has finalized preparations to be the official sports bottle of the third annual USA Pro Challenge. The toughest professional cycling race in the U.S., the USA Pro Challenge travels through the state's mountain passes and top cycling destinations from Aspen to Denver, August 19-25.
Polar Bottle, founded and based in Boulder, Colo., signed on as the official sports bottle of the race last summer and launched a line of six custom Pro Challenge insulated sport water bottles. The line includes designs inspired by each of the five awards jerseys. Due to the success of the bottles in 2012, a new commemorative route bottle, which maps the seven-stage race from the start in Aspen to the circuit finish in Denver, has been added to the lineup for 2013.
"Partnering with the Pro Challenge has been great for our company," said Polar Bottle President Judy Amabile. "This is one of the top road races in the country. Colorado is lucky to host it and we are thrilled to be a sponsor again this year."
The Made in Colorado USA Pro Cycling bottles were a hit with spectators at the 2012 race and have been top sellers on the Polar Bottle website all year. The entire bottle line is currently available on the Polar Bottle website and in select stores around the country. Additionally, fans will have the opportunity to pick one up at the Polar Bottle booth in the festival at every finish city along the route.
"Polar Bottle has been a valuable partner for the USA Pro Challenge," said Rick Schaden, owner of the race. "The unique designs of the bottles tie directly to the awards jerseys presented at the end of each day, creating a valuable souvenir for fans that reminds them of the thrill and excitement of the race."
Image courtesy Polar Bottle