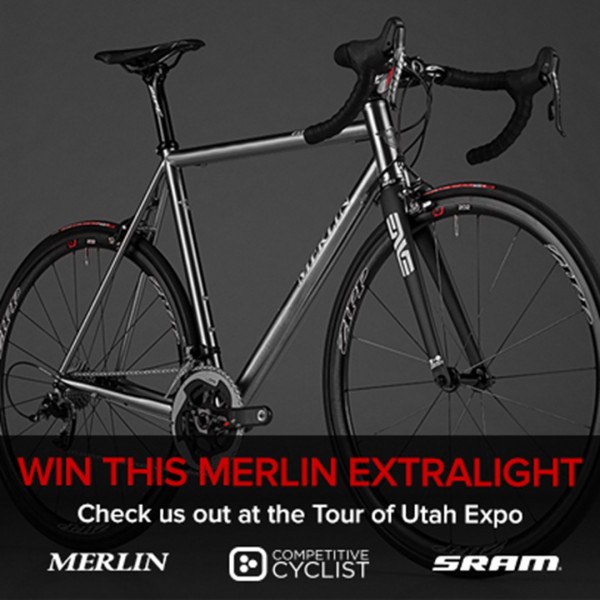 Online bicycle retailer is backing Utah's premiere road race with exclusive bike giveaway and 1K- to-go sponsorship
Competitive Cyclist, the premier online specialty bicycle retailer, today announces its partnership with industry-leader SRAM and Merlin for an exclusive bike giveaway at the ninth annual Larry H. Miller Tour of Utah.  Competitive Cyclist will also be the presenting sponsor of the '1K-to-go' arches on all six stages of the Tour, which runs from Aug. 6-11.
Competitive Cyclist and SRAM are joining forces to offer a giveaway of a Merlin Extralight road bike outfitted with the latest SRAM Red components for Tour of Utah spectators. The contest is open to anyone who visits the Competitive Cyclist booth at the Tour's Lifestyle Expo, located at the finish of each stage. The online retailer is also supporting the Tour with sponsorship of the 1K-to-go arches at each stage.
Competitive Cyclist will have a booth at the Expo along with backcountry.com, the presenting sponsor of the Tour of Utah Expo area. The consumer Lifestyle Expo offers pre-race entertainment that includes product showcases, freebies, and limited edition merchandise at each finish city. For the stages finishing in Salt Lake City and Park City, cycling legend Bob Roll will be a guest at the backcountry booth for a special "Ask Bobke" session where he'll field questions submitted through the backcountry.com Facebook page and those submitted at the Expo.
Touted as "America's toughest stage race," the Tour of Utah will feature 16 professional cycling teams and cover 586 miles with 43,621 vertical feet of climbing.
Competitive Cyclist is 100-percent committed to providing cyclists with the most comprehensive buying experience available today, combining the best-in-class service found in specialty retail with the power of research and community found online.
For more about the backcountry.com Lifestyle Expo at the Tour of Utah, check: http://www.tourofutah.com/2013/backcountrycom-expo.
Image courtesy Competitive Cyclist