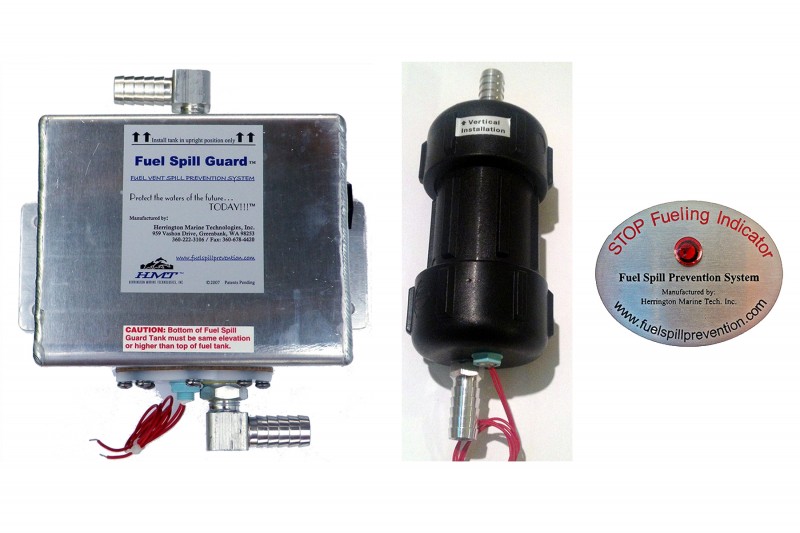 Boat refueling spills are expensive in every sense, taking a serious toll on both the marine environment and the boat owner's wallet. Even small accidents remain illegal and punishable by stiff fines. Spills can also damage a boat's finish, necessitating costly repairs. The Fuel Spill Guard system from Herrington Marine Technologies offers boaters a safe, permanent solution to fuel vent overflow.
A boat's fuel delivery system requires an air vent to accommodate fuel expansion and allow air to move in and out of the tank during normal operation. This means that as a tank reaches capacity during fueling, any excess spills out from the vent line into the water, where even small amounts of pollution can cause environmental damage.
The Herrington Marine Fuel Spill Guard stops fuel spills, whether from the pump or a portable container, by alerting the user with light and sound as the tank nears capacity. Its design also prevents fuel from creeping up the vent line when hot weather causes fuel expansion, or when a boat rocks in heavy seas.
The Fuel Spill Guard installs inline between the overboard vent fitting and the fuel tank, ideally at a bulkhead or on the stern. Model FSG2-058, measuring 6″ L x 6″ W x 4″ H, has a 2 qt., marine grade, aluminum tank with sensor for most standard horizontal installations. For sailboats or craft with vertical fuel lines, model RS-058-BL is constructed of fuel-resistant reinforced plastic and measures only 6″ L x 3″ in diameter. Both versions work on either gasoline or diesel fuel systems. All Fuel Spill Guard kits include a 2-1/4″ W x 1-3/4″ H stainless steel deck plate with LED indicator light, audible alarm buzzer and mounting hardware.
Many aftermarket products claiming to prevent spills are cumbersome and complicate refueling. Some actually create potentially dangerous problems, like fuel backsplash, fuel tank condensation or vent airflow restriction. The Fuel Spill Guard system meets and exceeds USCG regulations, and is recognized by both the National Marine Manufacturers Association and the American Boat & Yacht Council. Kits also include simple step-by-step installation instructions, allowing any owner with a basic knowledge of boat systems to perform the installation. The Herrington Marine Fuel Spill Guard model FSG2-058 retails for $156; model RS-058-BL costs $130.
Contact Herrington Marine Technologies,
959 Vashon Dr., Greenbank, WA 98253.
360-222-3106; Fax: 360-678-4420;
[email protected]; www.fuelspillprevention.com.
Image courtesy Herrington Marine Technologies