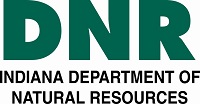 Go for the gold at the Ouabache Olympiad, Aug. 3, at Ouabache State Park in Bluffton.
Events are:
8 a.m.: Registration. Meet at pool lawn.
8:45 a.m.: Opening ceremony. Lighting of the flame. Meet at pool lawn.
9 -9:45 a.m.: Run /walk. Meet at Lakeside Shelter
9:30-11 a.m.: Basketball, tennis and volleyball. Meet at the pool.
11 a.m.-noon: Swimming at the pool.
1-2:30 p.m.: Archery and air rifle shooting. Meet at pool lawn.
3-4:30 p.m.: Canoeing. Meet at the boathouse.
5 -6:30 p.m.: Hiking and fire tower.
7 p.m.: Closing ceremony and awards at the pool lawn.
Camping reservations can be made at camp.IN.gov or (866) 622-6746. The regular entry fee of $5 per in-state vehicle and  $7 per out-of-state vehicle is in effect for those who have not purchased an annual entrance pass.
For more information on other UWIS programs, see dnr.IN.gov/uwis or facebook.com/UpperWabash.
Ouabache State Park (stateparks.IN.gov/2975.htm) is at 4930 E. St. Rd. 201, Bluffton, 46714.
Logo courtesy Indiana Department of Natural Resources