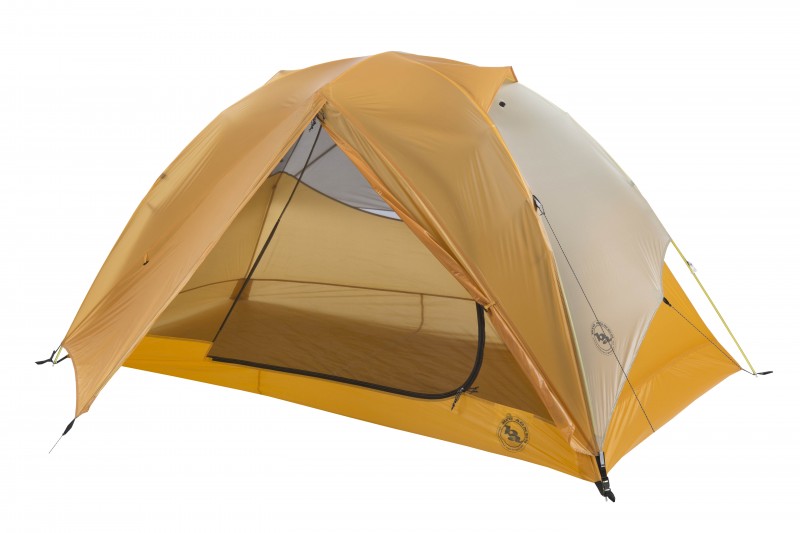 Big Agnes started out when the company's founder thought to integrate a sleeping pack into the sleeping bag, providing comfort that was mostly unknown at the time. The company's offerings today range from lightweight tents and pads to more comfortable, family-oriented products. Their whole mission is to make sleeping on the ground more comfortable, said Carl Johnson from Backbone Media.
"The tagline for Big Agnes is 'the mother of comfort,' so that kind of gives you an idea of where we come from," he said. "But we also have one of the lightest, free-standing two-person tents on the market [less than two pounds]."
The newly-released products from Big Agnes include tents, sleeping bags, outerwear, and chairs.
"One of the big pushes this year is DownTek, which is a water repellant down," said Johnson, mentioning that the technology is used in most of the sleeping bags. "With down, it typically gets wet, clumps up, and they don't stay warm if they do get wet. DownTek helps alleviate that issue because it's treated with a nano-technology and all it does is make the down hydrophobic, so it doesn't increase the weight."
Also new at Big Agnes are synthetic bags, which incorporate a new insulation called Pinneco Core. The company is working with this third-party brand as the exclusive manufacturer currently using it.
"Typically with sleeping bags, you get this shingled design. They basically take these sheets of insulation and lay them on top of each other, but there are all sorts of problems with that. It's heavy and not as efficient as it could be," Johnson said. "With Big Agnes, it's two flat layers of insulation and it kind of A-frames."
The baffles (the chambers between the outer shell and inner lining) in the bags run vertically, helping to ensure the entire body is protected. After Big Agnes launched this design, more companies began to follow in its footsteps.
Another product the company is promoting is the add-on vestibules that are options for a number of the tents.
"It's very cool, especially for family camping trips where it's a little rainy and you can cook in there–just hang out." Johnson said.
The newest tent is Angel Spring UL2, which weighs a mere two pounds, nine ounces.
"This is a great option for people who want a light load but want the extra space," he said. "It's great for hunters."
Another brand new product is the water-resistant Entertainment Center Loft. This dry bag is designed to fit any tablet and it hangs from the loops in the inside, top of the tent, giving the user the ability to view their tablet in a comfortable position.
New to the company are the DownTekT jackets.
"This is the first time that Big Agnes has done apparel," Johnson said. "Using the same technology as our sleeping bag line–we just thought it made sense to make a jacket. It's extremely light and more of a technical jacket. We designed it for backcountry use. It's extremely warm and also has a water resistant capability."
To learn more about the products Big Agnes offers, visit the website.
Images by Ariel Black