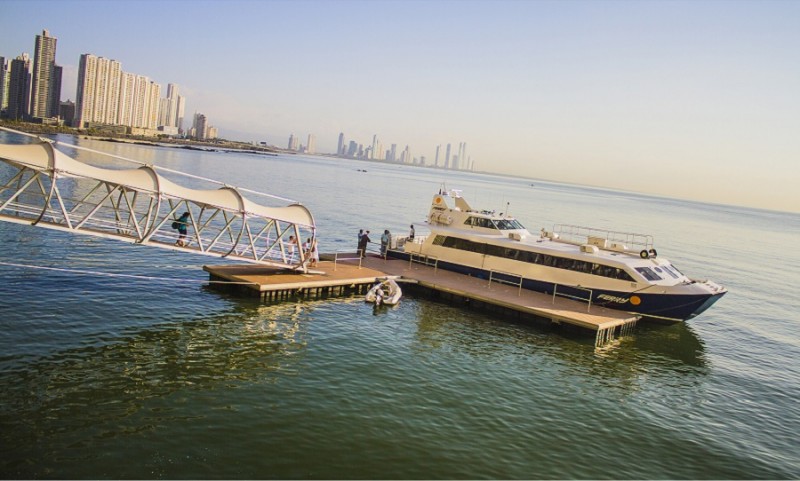 Small remote islands with azure seas, lush scenery, tropical birds and private white sand beaches lie just a 90-minute ferry ride from the Trump Ocean Club International Hotel and Tower in Panama City, Panama. Serving as gateway to this Pacific paradise is a cleverly-designed, covered floating landing that accommodates ferry operation from the resort, despite notoriously rough water conditions. Engineered and constructed by Structurmarine, this simple yet elegant structure meets the specific needs of both client and site.
The Trump facility offers daily trips to the tranquil hideaway of Las Perlas, or the Pearl Island Archipelago. Excursions to Isla Saboga and Isla Contadora aboard the luxurious 80′ vessel operated by Ferry Las Perlas create the perfect day trip for nature lovers and water sport aficionados.
Although waters within the nearby archipelago are clear and calm, the hotel's waterfront affords no protection from regular 4-12 knot winds, with gusts to 16 knots, and nearly 7′ waves. This created complicated boarding conditions, said Elson Mesquita, director of ferry operations. The ferry's schedule demanded that the landing remain accessible during both high and low tides, in all seasons and conditions. Regional economics also played into the mix, making pile driven anchoring prohibitively expensive.
Taking all these factors into consideration, Structurmarine engineered a T-shaped floating landing secured by an elastic, flexible underwater anchoring system. Defying tides and able to withstand winds up to 74 mph, it accommodates the regular ferry schedule while providing safe and comfortable use by passengers.
Measuring a generous 16′ W x 65′ L, the landing features a center handrail for extra passenger security during embarking and disembarking. Structurmarine chose Timbertech decking for its anti-slip properties, an important consideration in high wave conditions.
Passengers also enjoy the comfort of a high tension shade structure covering the 5′ W x 92′ L access gangway connecting the Trump lounge and the landing. A Structurmarine exclusive, the resilient yet highly elastic shade system fabric easily handles the area's heavy wind loads. Featuring a shore link connection also unique to Structurmarine, both the gangway and its cover are built to the same exacting standards as the landing.
Under Structurmarine's supervision, a local contractor completed the installation. Ongoing weekly inspections now ensure that the landing meets the standards necessary for year-round use.
The new Structurmarine covered landing facility has greatly improved the efficiency of ferry access, said Mesquita, with the whole boarding operation now accomplished in under 10 minutes. He added that the landing has now become the most centralized in the city, also serving local hotels with up to three boats daily, in addition to the VIP service provided to Trump Ocean Club Guests. It ushers hundreds of visitors daily between shore and ferry, accommodating boats up to 80.
Contact Structurmarine, 12645 rue April, Montreal, QC, Canada, H1B 5P6. 514-645-4000; Fax: 514-645-6396. [email protected]; www.structurmarine.com.
Image courtesy Structurmarine/ Siente Panama