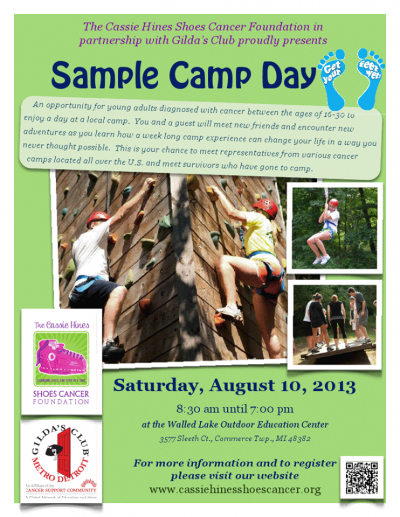 The Cassie Hines Shoes Cancer Foundation in partnership with Gilda's Club proudly presents: Sample Camp Day at the Walled Lake Outdoor Education Center (3577 Sleeth Ct., Commerce Twp., MI 48382). Saturday, August 10, 2013 from 8:30 am until 7:00 pm.
This event is designed for young adults diagnosed with cancer between the ages of 16 – 30 or those currently in that age group battling cancer. At "Sample Camp", the young adults can come alone or bring a friend and enjoy a day of adventure and team building. Their intention is to give each potential camper a chance to get their feet wet at a local camp experience. Their hope would be that they feel encouraged to take a chance and travel further to attend one of the out-of-state cancer camps. There will also be representatives from these various camps to answer questions along with a panel of experienced campers. The Cassie Hines Shoes Cancer Foundation also provides funds for travel expenses to camp.
Each year, more than 70,000 young adults are diagnosed with cancer. Being a young adult cancer patient or survivor is difficult on a good day. Their emotional needs and challenges are much different than those of children or older adults battling cancer. They must face a very uncertain time while their friends are planning for the future. The Cassie Hines Shoes Cancer Foundation (www.cassiehinesshoescancer.org) was created to support young adults with cancer from the beginning of their battle to life beyond cancer. When young adults with cancer engage in support groups involving peer interaction, especially at young adult cancer camps, they find the tools that help them manage the emotional side of their battle and allow them to feel like they are back in charge of their own life.
For more information about The Cassie Hines Shoes Cancer Foundation, please visit their website, www.cassiehinesshoescancer.org.
Image courtesy The Cassie Hines Shoes Cancer Foundation/ Facebook