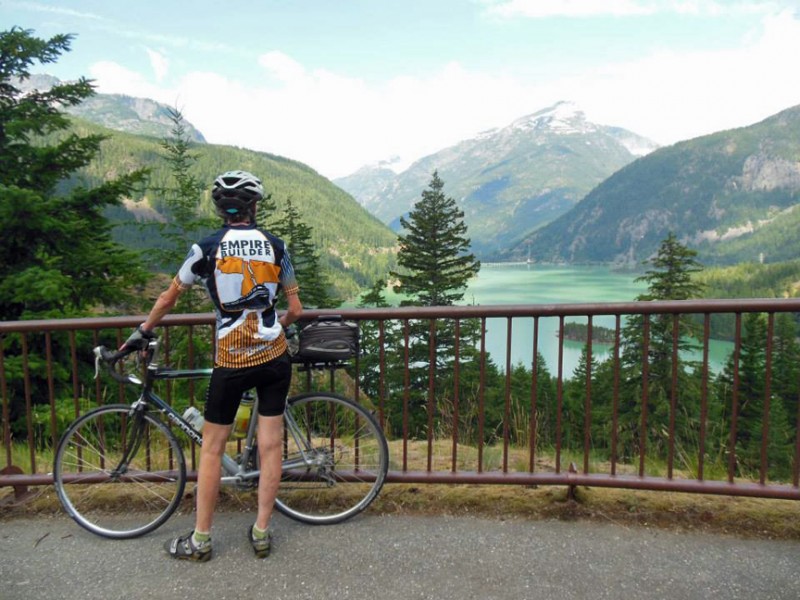 When does a travel company realize it has a signature journey on its hands?
Todd Starnes, president of Bicycle Adventures, http://bicycleadventures.com/, the Pacific Northwest-based active travel company specializing in two-wheel tours in North America, Hawaii and New Zealand, says shock waves went through his staff when they realized they'd created one.
According to Starnes, participant satisfaction and enthusiasm broke the scale on their first-ever run of Empire Builder Epic. "It's an incredible nine-day spin through three states (Washington, Idaho and Montana) in the Pacific Northwest that culminates with sweet dreams aboard private sleeping cars on Amtrak's Empire Builder run from Montana's East Glacier National Park back to Seattle," he explains.
"The riding is nothing short of spectacular," says Starnes, adding that its two scheduled 2013 trips have completely sold out. His company anticipates early bookings on June 21, July 12, and Aug. 16, 2014 departures already posted on the website.  See: http://bicycleadventures.com/tours/epic-bike-tours/Empire-Builder-Epic—NEW!
"Any tour company can take you to a scenic place like Glacier National Park, but Bicycle Adventures ensured that we had the best experience imaginable," reported Jane and Pete C. from Damascus, MD.
The per person double rate of $3,695 includes bikes, all meals except one lunch and one dinner and nine nights accommodation, including the train.
This 600-mile journey spanning 10 days (Saturday to Monday) targets advanced riders who are used to biking 60+ miles a day with hills. This "Epic" itinerary calls for an average of 70 to 100 scenic miles a day on bikes.
The tour on two wheels begins in Seattle and on Day 1 journeys to Marblemount at the base of the Cascades in northern Washington. Some 5,000 feet of climbing comes the next day over Washington Pass and into Washington's Wild West – the Mazama / Winthrop area. There is a 50-mile gradual climb on the North Cascades Scenic Loop and a cruise through Ross Lake National Recreation Area, finishing with a 25-mile descent into Mazama.
Omak below the Canadian border on the Okanagan River is the goal for Day 3, riding through the Okanagan National Forest and skirting the Sinlahekin Wildlife Area, a 19,000-acre park, originally a mule deer preserve. On Day 4 come 4,000 feet of climbing from the prairie toward the Selkirks, winding through the Sherman Creek Wildlife Area, across Lake Roosevelt formed by the Grand Coulee Dam and through Kettle Falls, a former rendezvous point and fishing grounds for the Yakama, Nez Perce, Flathead and Blackfeet tribes whose seasonal salmon catches would net up to 3,000 fish per day. The destination is Colville, a one-time trading center for the Upper Columbia region.
Day 5 is a 100-mile ride to Sand Point, ID, on the shores of Lake Pend Oreille, the second largest freshwater lake west of the Mississippi. A two-night stay here is time enough for hiking, fly fishing, rock climbing and more. Rested up, it's 104 miles across the panhandle to Libby, MT, on Day 7, followed by a cycle to Whitefish, MT, on Day 8 and the gateway to Glacier National Park. An 83-mile ride on the famed Going-to-the-Sun Road over the Continental Divide on Day 9 encompasses Logan Pass, the highest point in the park, with alpine meadows and lakes, peaks fringed by fields of wildflowers and waterfalls, and sightings of bighorn sheep or mountain goat. The goal is to catch the 6 p.m. train for dinner and an overnight back to Seattle.
For more information, availability and reservations contact Bicycle Adventures by phone: 800.443.6060, email: [email protected] or visit online at: http://bicycleadventures.com/
Image courtesy Bicycle Adventures