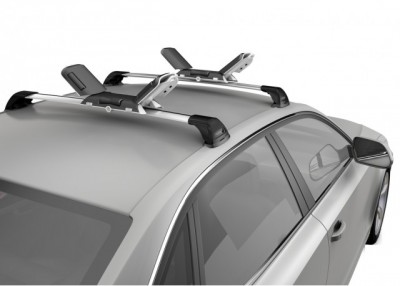 Kayak enthusiasts now have two new options to carry their kayaks, from Whispbar. The Oregon-based manufacturer introduces two new boat mounts this week—the WB400 J-Cradle Kayak Carrier and the WB401 Saddle Roller Kayak Carrier. Both have characteristics that make it easy to load a kayak onto cars for transport. They also integrate with the Whispbar rack system.
The WB400 J-Cradle Kayak Carrier features fold-down cradles and SmartLoad slide out arms that allow for boat loading at a side angle. The sideways loading angle preserves space as well. The kayak carrier carries one 80-pound boat and includes tie down straps, ropes and a ratcheting pulley to tie down the bow and stern. The manufacturer's suggested retail price is $299.
The WB401 Saddle Roller Kayak Carrier also includes SmartLoad rollers. The carrier's padded saddles adapt to the shape of any kayak and flatten when not in use. QuckDock technology allows paddlers to install or remove the carrier from a vehicle quickly. This carrier fits Whispbar T-slot bars with QuickDock or Yakima round or square bars, with an included adapter. It carries an 80-pound boat and also includes tie down straps, and bow and stern tie down ropes with a ratcheting pulley. It will retail for $299.
Image courtesy Whispbar