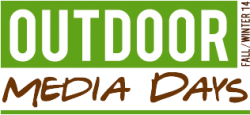 Michelle Obama wears Patagonia, Mark Zuckerberg rocks The North Face… The outdoor and active lifestyle industry influences people and fashion far beyond extreme sports. This thriving industry as a whole can benefit from more opportunities that highlight its economic and social impact, as well as contributions in the areas of technology, fashion and product development.
To this end is Outdoor Media Days, a media event hosted concurrently with the Grassroots Outdoors Alliance Fall buying event. Outdoor Media Days is an opportunity for progressive brands in the outdoor and active lifestyle markets to unveil key products to journalists, in person.
"As we worked with brands daily, we felt that there needed to be a media event, exclusively dedicated to communicating the influence of the outdoor industry to the mainstream media in a more formal and intimate way," says Raimondo Forlin, president of Immagina, the company organizing the event. "I'm convinced that the Outdoor Media Days will have a positive effect well beyond its participants. If leading economic and fashion journals are talking about innovators in the outdoor market, we all benefit."
The event format allows one-on-one appointments in private suites, so journalists can get their hands on new products, and brands can tell their story in full…no distractions. Additionally, the connection with Grassroots provides further networking opportunities and access to the leading outdoor specialty retail audience.
"We are thrilled to have a media event running simultaneously with our buying show," says Roanne Miller, president at Grassroots Outdoors Alliance. "Independent specialty retailers carry the most innovative and fashion-forward products in the outdoor and active lifestyle industry. Grassroots Outdoor Alliance brings that community together as a strong voice in support of the culture and business they provide. We are excited for journalists to hear that voice and have the opportunity to preview the latest products and emerging trends from brands that also share those core, outdoor specialty values."
Logo courtesy Outdoor Media Days