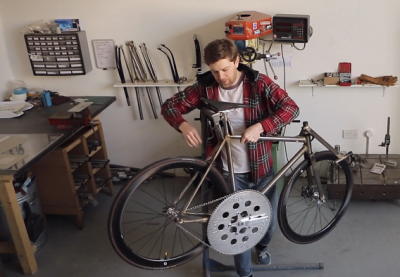 A short film titled Experiments in Speed follows the journey of British bike builder Tom Donhou as he sets out to discover just how fast his bike can go. Inspired by record setters in the 1960s who set land speeds between 300-600 mph in jet-propelled cars, Donhou decided to mold the challenge to fit his skill set–this time using a bike. 

An April 17 post on the Donhou Bicycles website written by Tom Donhou stated, "This was one of those ideas that sits in your head and floats around for a while. You start to figure a few things out, starts to seem feasible but then you realize it's kind of ridiculous, it never actually happens … well, this time it did."
Donhou, working with others, reached speeds above 80 mph on his bike while trailing behind a Ford Zephyr that helped increase speed. He said the old car, built nearby, was a tribute to British engineering. Although he said he did not set out to break records, Donhou admitted he became sort of addicted to figuring out ways to go even faster.
"This project isn't about setting records," he said in the film. "It's about using our imagination."
He said one of the biggest challenges was figuring out the geometry and mechanics of the bike so it would be stable at high speeds. To develop the gearing, he contacted Royce, who created a 104-tooth chain ring that would enable the bike to reach speeds up to 100 mph.
"I wanted to keep the bike as normal as possible," he said. "One of the important things for me was that the bike was built from the same tubes and the same components that I use on my normal bikes I build for customers."
After setting up a simulation indoors on rollers, Donhou reached 102 mph, leaving him with the feeling that he wanted to get back on the runway. Although the film is less than 10 minutes long, it sums the process up well and leaves the audience inspired by one man bringing his vision to reality.
"Spindle [has] been involved in this project from the beginning and I can't say a big enough thanks for the amazing job they have done with the film," Donhou said on the website. "Watching it I can tell you that they capture the project perfectly."
Image is a screen shot from SpindleProductions on Vimeo