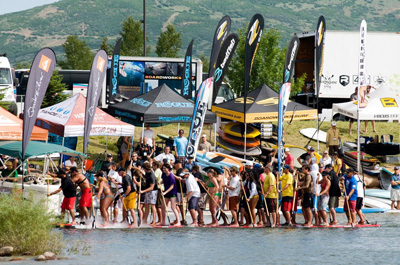 Pineview Reservoir, with sand beachfront property, becomes the new "low-water" location for Outdoor Retailer's Open Air Demo
Bringing together crowds of retailers and media from around the world, the Outdoor Retailer Open Air Demo (OAD) provides members of the outdoor industry an exclusive opportunity to test the latest apparel, camping, fly fishing, GPS/geocaching, hiking, hydration, paddlesports, SUP, travel and trail running products from 140 top brands.
Giving retailers access to cutting edge technologies, these demos help determine what consumers will see in stores in the coming seasons.
The demos and events at Open Air Demo will be the media's only opportunity during Summer Market to capture comprehensive photography and video of the newest outdoor products in the environment for which they were intended.
Complimentary shuttles will take attendees from the Salt Palace directly to the Demo. Shuttle Schedule: http://bit.ly/13pliGk
The event is not open to the public; show badges are required for all attendees. Media registration can be secured through Maura Lansford, 817.929.8123/[email protected].
WHEN:
Tuesday July 30, 2013
8 a.m. to 4 p.m.
WHERE:
Pineview Reservoir (Port Ramp Marina)
Eden, Utah
Directions to Port Ramp Marina – Pineview Reservoir
North on I-15 Exit #324 onto I-89 just past the lagoon in Farmington continue North  to I-84, Exit #92 right on Old Highway- follow sign to Snowbasin North on Trappers Loop Rd 167 at Sinclair Station – Left on SR39 towards the dam – at the dam make a right onto SR 158 – about 2 miles to Port Ramp Property on the right.
PHOTO OPS/SCHEDULE
Magellan GPS Treasure Hunt
8 a.m. – 4 p.m.
Attendees discover the world of high tech treasure hunting at the Magellan GPS Treasure Hunt and experience the latest in GPS technology.
Paddle Out or Fish to Grab a Gooper
8:30 a.m. – 3 p.m.
Attendees paddle to a magnetized buoy to grab a Gooper, or fish for a Gooper in the magnetic fishing hole.
Helly Hansen Train with Confidence 5K Trail Run
9:30 a.m. and 12:30 p.m.
The Train with Confidence 5K Trail Run, created by TrueHero is expected to be a scenic route through OAD just shy of a 5K.
Orvis Fly Fishing 101
10 a.m. and 2 p.m.
Learn why fly fishing is fun for the whole family.  Let the Orvis team help remove the intimidation and show you how easy fly casting can be.
Patagonia Demo Fun Runs
11 a.m. and 1 p.m.
Attendees will meet and run with trail running ambassadors and athletes including Krissy Moehl, Jeff Browning, Luke Nelson and Ty Draney.
The Chill Zone, sponsored by Body Glove & Sierra Nevada
11 a.m. – 3 p.m.
Relax, socialize, and quench your thirst at the Chill Zone, sponsored by Body Glove and Sierra Nevada.
Fly Fishing from Your SUP – Tips and Techniques Seminar
1 p.m.
Come watch as Michele Bowman teaches attendees how to fly fish from an SUP; how to get started, basic fundamentals, including specific SUP techniques, tips and tricks.
Glamping with Barebones
All Day
Glamping is all about being outside, without having to rough it! Show your audience how they can be right at home in a spacious and glamped-out, water-resistant Cordura Barebones tent – as off-the-grid or connected to the world as they wish to be. The tents are on display all day at OAD.
Image courtesy Outdoor Retailer