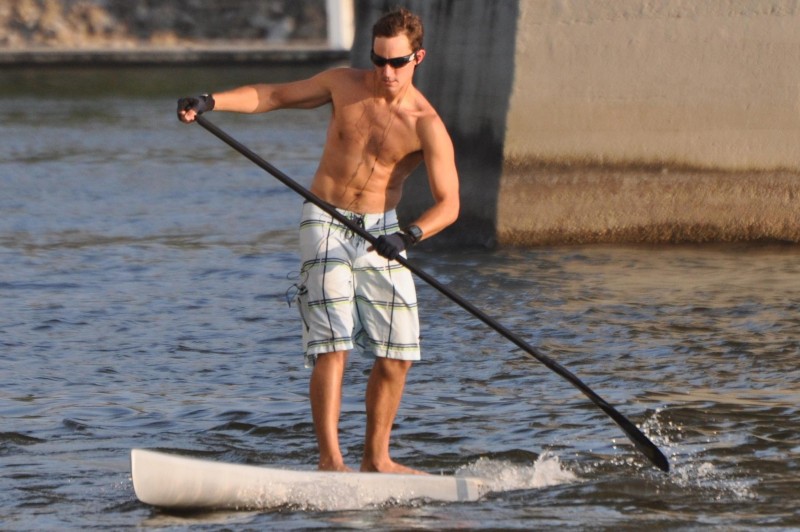 Chattanooga native Ben Friberg and his 10-member support crew left last week for Key West to prepare for his record-setting attempt to cross the Straits of Florida. Hoping to become the first ever to make the trip non-stop on a stand up paddleboard, Ben finally attained the proper permits and clearances from both countries to make the trip possible.
Once he begins, Ben hopes to make the trip in 24 hours, but he says he is mentally prepared for 40. Though no one has set rules for crossing the channel via paddleboard, Ben doesn't plan on making it easy on himself. "You can't climb on the boat and take a breather. You can fall off, climb back on board, can sit on the board for a feeding break, but c'mon, it's stand up paddleboarding. Let's stand up!" Though forty hours may seem like an astonishing amount of time to stand and paddle, Ben is no stranger to these extreme challenges. Just last year he broke the world record for longest stand up by paddling 238 miles in 24 hours down Canada's Yukon River.
In comparison, the 90-mile journey across the Gulf may appear to be a walk in the park, but there are many more factors to consider when paddling into open water. The Gulf Stream's currents, trade winds, and fluctuating conditions will make the trek anything but easy. There is also marine wildlife, such as jellyfish and sharks, to think about.
But Ben and his team are most concerned about the weather. Before the start of the expedition, Tropical Storm Dorian was forecast to hit the Cuban coast. The latest weather forecast isn't promising either, with a possible tropical storm brewing off the coast of Africa. Nevertheless, Ben and team hope to take to the water sometime this week and attempt to make history, and Ben couldn't be more excited. "I look forward to being out in the frontier of the open ocean and everything that comes with that. Also, for me, while doing long paddles, I look forward to hours eight and nine when you're still feeling really good, have come a long way, and you can sort of see the how things are going to fall the rest of the way. When you're in a good steady paddle and place. A zen place."
To learn more about his amazing story and follow his progress visit Facebook, Twitter or the project homepage at http://cubasup.com/.
Image courtesy Ben Friberg /cubasup.com Quote courtesy distressedmullet.com/