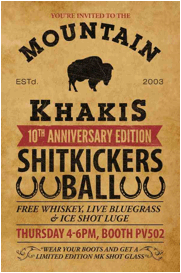 Mountain Khakis, a leading mountain-inspired lifestyle apparel brand known for its "Best Damn Khakis," invites you to their 10th Anniversary "Sh*tkickers Ball" and Shannon Christy benefit, Thursday, August 1st 4-6pm at Outdoor Retailer Summer Market in Booth# PV502.
Get some Vitamin D and fresh air, and hike your boots over to Mountain Khakis' Booth# PV502 in the Pavilions at SMOR, where you'll enjoy great tunes and great whiskey with great friends, in honor of MK Ambassador Shannon Christy.
Expect Free Whiskey, Ice Sculpture Shot Luge, Live Bluegrass with Stray Grass, and limited-edition 10th Anniversary swag!  Wear your boots 'cause you'll be dancin' as they celebrate this milestone and tremendous growth the MK way.  Special swag giveaways include a limited supply of custom MK Miir stainless pint cups, MK 10th Anniversary shot glasses, Stray Grass limited-edition live CD's, and more.
For those looking forward to the unique ice sculpture shot luge, there will be three featured shots from which to choose.  Or choose one of each.  Shots are $5 each (cash only), with proceeds benefitting First Descents on behalf of MK Ambassador, Shannon Christy.
"Shannon was a vibrant member of our Professional Ambassador team, said Erin (Fagan) Hoffarth, MK Marketing Manager.  "She was a woman full of love, life and adventure, and exemplified the MK lifestyle.  Her loss has touched each of us, and we are honored to play a small role in saluting her legacy with this benefit fundraiser."
Shannon worked with leading Outdoor Industry brand, Confluence Watersports. "If you're lucky, you get to work with someone who makes a huge impact, not only on the business but on the entire culture of a company.  Shannon was one of those rare combinations—she brought us astounding talent and extraordinary positive energy," said Cheri McKenzie, marketing vice president at Watersports.  "Her passion always reflected in her work and her sparkling nature could change your day.  She was brilliant, compassionate, and funny.  And as so many have said, she was sunshine and light.  I know that Shannon's family will truly appreciate Mountain Khakis' effort to raise donations for First Descents on her behalf."
Mark your calendars now for the Mountain Khakis Sh*tkickers Ball and Shannon Christy benefit at SMOR.  Thursday, August 1st from 4-6pm.  Booth# PV502.  Don't forget yer boots!
Logo courtesy Mountain Khakis