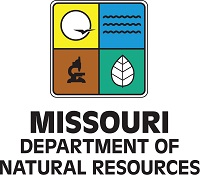 A new lodging option is now available at Pomme de Terre State Park. Visitors can enjoy an alternative camping experience by reserving a stay in the park's yurt, a circular structure that is weather tight and includes electricity, air conditioning, and heating. The yurt at Pomme de Terre State Park is the third in Missouri State Parks; the other two are located at Lake of the Ozarks State Park.
"Providing these types of alternative camping options allows visitors to have a new experience in our state parks," said Bill Bryan, director of Missouri State Parks, a division of the Missouri Department of Natural Resources. "A yurt is a great way to experience the outdoors while still having the comforts of climate control, protection from the elements, and a locking door. I would encourage anyone who is interested in a stay in one of these unique structures to make their reservation at Lake of the Ozarks or Pomme de Terre state parks today."
A yurt has a fabric cover, much like a tent, and wooden frame making it strong and weather tight. It sits on a wooden platform with decking and has a locking door. There are three large windows to enjoy the view and a dome skylight that can be opened for ventilation. The units are ADA-accessible and sleep five with a maximum occupancy of six. They feature furnishings and lighting including a log futon, log futon bunk bed, a dorm-size refrigerator, coffee table, air conditioner and heater.
The new yurt at Pomme de Terre State Park is located in the Loop 400 in the Pittsburg area of the park. A picnic table and a fire ring and grill for barbecuing or campfires are located outside the unit. Since the yurts do not include running water, a modern, central restroom and shower house is available nearby.
To stay in a yurt or make any camping reservation at Missouri State Parks, call 877-ICampMo (877-422-6766) or visit mostateparks.com. Missouri State Parks is a division of the Missouri Department of Natural Resources.
Logo courtesy Missouri Department of Natural Resources