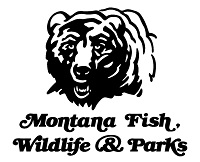 Montana Fish, Wildlife & Parks' Becoming an Outdoors-Woman program is sponsoring a kayaking class August 17 on the Clark Fork River near Thompson Falls.
Participants will learn about kayak safety and paddling strokes before launching for a 5-mile float down the Clark Fork River.  The fee of $45 includes use of a recreational kayak, life jacket and lunch at the conclusion of the float.
The workshop is hosted by the Becoming an Outdoors-Woman program of North West Montana. To register, or for more information, contact BOW event coordinator Ginger Ward at 406-827-4597.  Registration forms are available on the FWP website at fwp.mt.gov ; click "Becoming and Outdoors Woman", under the Education tab.
Logo courtesy Montana Fish, Wildlife & Parks