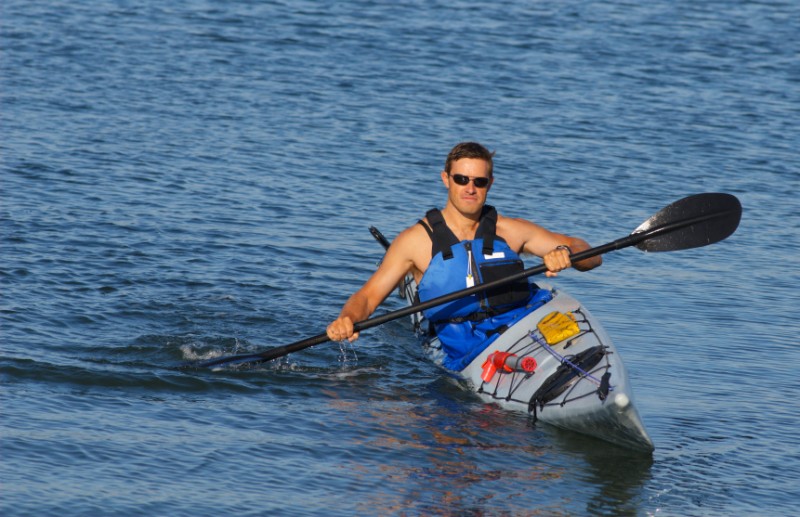 One Giant Leap, a company based out of New Zealand, has developed a new product that will give kayakers precise measurements of exactly how much power they are putting into each stoke. The Kayak Power Meter is a paddle attachment that its makers argue has the potential to become as standard as the power meters used throughout the cycling community.
"Like [in] cycling, power is the single most important number for tracking performance in kayaking," One Giant Leap's managing director Mathew Pottinger told gizmag. "Boat speed can be influenced by uncontrollable factors such as wind and current, while power is a direct and consistent measurement of effort, regardless of conditions."
The meter works like a ANT+ cycling power meter, which is designed for the collection and transfer of sensor data to other compatible devices.
"Use the Kayak Power Meter with an ANT+ head-unit and you can record your power, power balance, and stroke-rate alongside your boat speed and heart rate," the website stated. "Software such as Garmin Connect or TrainingPeaks can be used to view your data and analyze your performance."
This product would assist kayakers in not only learning the details of their workouts, but help ensure they are not under- or over-training.
The compatible devices are sold separately and include smartphones, tablets, and fitness watches, among others. Retailing for $830 plus shipping costs, the Kayak Power Meter is currently available for pre-order, with meters arriving in September.
"The device is simply a two-part carbon fiber shaft, available in two stiffness varieties, and requires you to secure blades with an included hot glue stick," gizmag stated. "It includes two USB charging cables and a Windows software package for managing settings."
According to the One Giant Leap website, it is an award-winning company specializing in developing electronic solutions to monitor the mechanics of the human body and/or sporting equipment in order to provide real-time feedback.
The Kayak Power Meter was nominated by ANT for "Most Innovative Product" at the 2011 ANT+ Symposium in Alberta, Canada.
Image copyright iStockPhoto/stasvolik