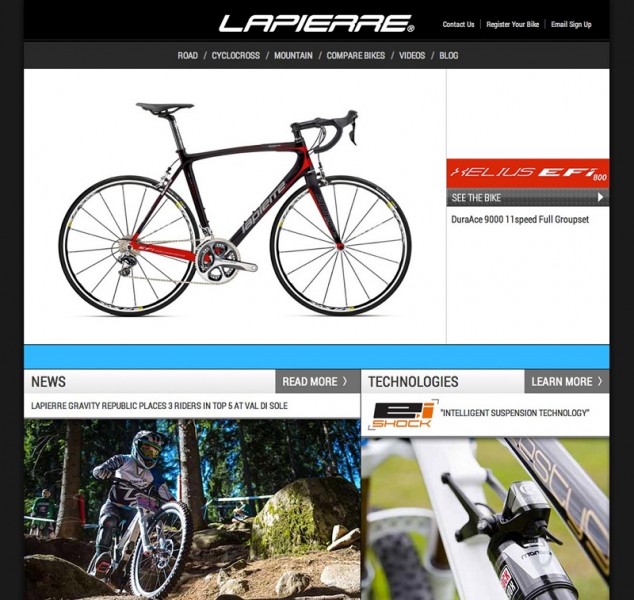 Lapierre, an established, performance-driven mountain and road cycling brand born in France, today launches its official North American website. The site is home to North American product offerings, technology, team information, dealer locator, consumer blog and monthly newsletter signup. The domain can be found at: www.lapierrebicycles.com.
Founded in Dijon, France, in 1946 and still headquartered in France, Lapierre is a performance-driven cycling brand. Four generations of the Lapierre family have contributed to shaping the company into a global leader in design and manufacturing of premium road and mountain bicycles. For the first time ever, the complete Lapierre road and mountain bike range will be launching in North America for 2014.
"We are excited to officially have a one-stop hub for everything Lapierre NA," said Kirk Bausch, Director of Sales and Marketing for Lapierre North America. "There's high anticipation among consumers and independent bicycle dealers (IBD's) to see the 2014 bikes we will offer in North America.  Check out our new website, explore our products, company and event info, athlete news, and share what you like the most."
This week, Lapierre North America will be revealing a range of road and mountain bicycles from the XR, Spicy, Zesty, Xelius, Sensium, and CycloCross lines at DealerCamp, 2013 in Park City, Utah.
In addition to the new website and blog, be sure to follow the Lapierre North America community on Facebook and Twitter.
To learn more about Lapierre North America, visit www.lapierrebicycles.com. Dealer inquiries can be sent to:[email protected].
Image courtesy Lapierre.