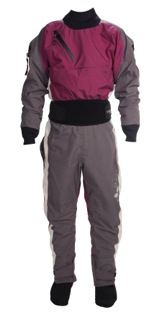 Kokatat once again raises the bar in dry suit performance and protection for whitewater paddlers with the addition of the GORE-TEX® Icon rear-entry dry suit to its iconic collection of performance dry suits.
"The Jackson Collection Icon introduced in January 2013 received a lot of attention among our paddlers and dealers with numerous requests for more colors," said Jeff Turner, Kokatat design and sales manager. "These new colorways and graphic highlights are in response to the direct feedback we receive from paddlers through our online custom suit Gizmo."
For spring 2014 th main collection in men's and women's styles in the new colors denim and violet respectively and will continue to be available in the Kokatat Jackson Collection in its original bold yellow and tangerine colors. In January 2014, the Icon suit will be added to Kokatat's online custom suit app (http://kokatat.com/products/custom.html) called the "Gizmo".
The GORE-TEX Icon rear-entry dry suit features Kokatat's exclusive and time proven 3-layer GORE-TEX Pro Shell fabric, used in combination with new GORE-TEX® 330 Cordura® in areas of high abrasion. Other features include a new and improved flexible waterproof zipper from YKK that keeps the paddler comfortable, even during the most difficult moves.
As with all Kokatat suits, the Icon is guaranteed to be completely dry. Each and every suit manufactured in Kokatat's Arcata, California factory is individually tested to be water tight before it leaves the factory. Further, Kokatat's lifetime warranty and Arcata service facility ensures users that they will remain completely dry for the life of the suit.
Image courtesy Kokatat