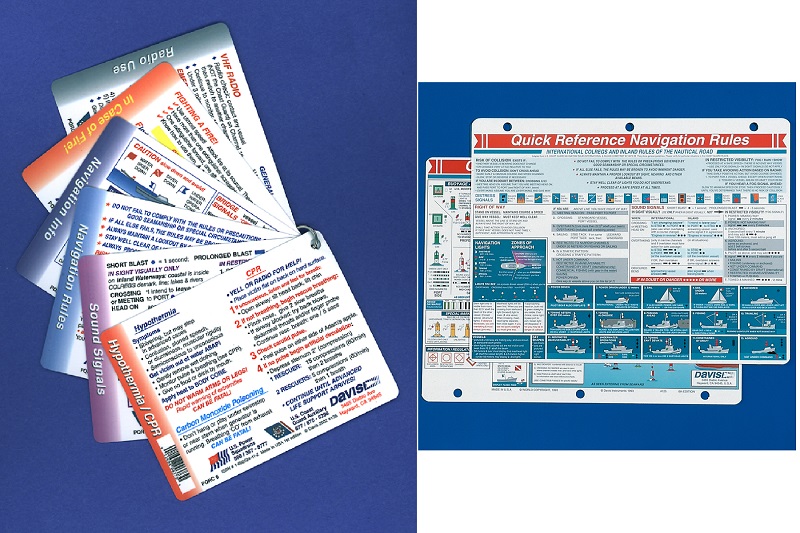 At critical moments, boaters can find themselves in need of a simple, quick resource. Davis Instruments Quick Reference Cards contain a variety of boating basics in an easy-to-use card format, placing important information at the user's fingertips.
Coated in weatherproof high-strength plastic, the three-hole notebook-size punched cards come ready for a binder or bulkhead mounting. Davis offers space-saving cards in seven different subject areas.
The Boating Guide covers basic procedures, equipment and emergency tactics, including launching, anchoring, knot tying, buoy and right-of-way rules, engine troubleshooting, radio use, weather warnings and first aid. Simple to understand yet thorough, Celestial Navigation assists boaters in determining location through the sun and stars.
Coastwise Piloting provides an easy guide to such piloting basics as dead reckoning, compass reading, position finding, and current and leeway corrections. Helpful hints include a time, distance and speed calculator.
Navigation Rules gives accurate information and a graphic summary of inland and international rules, US buoyage and right-of-way as well as covering topics like light, sound and bridge signals. International Nav Rules explains the different systems and signals boaters can encounter when traveling in unfamiliar waters.
Marine Electronics helps boaters quickly locate information about GPS, LORANC, RDF, radar and depth sounder operations, plus procedures and rules for radio communications systems. Weather Forecasting contains quick instructions for predicting weather through wind direction, barometric pressure and cloud type. It also includes important information about boating in hazardous conditions.
Additionally, Davis makes a set of Pocket Quick Reference Cards in an even smaller format than the regular cards. Only 3″ x 4″, these six sturdy weather-protected cards come joined with a stainless steel ring. They provide many of the same essential facts as on the big reference cards, plus procedures for fire and first aid.
All cards are printed in full color on both sides. Quick Reference Cards retail for $9.99 each subject, while Pocket Quick Reference Cards are $11.99 for a set of six cards.
Contact Davis Instruments, 3465 Diablo Ave., Hayward, CA 94545. 510-732-9229; Fax: 510-732-9188. [email protected]; www.davisnet.com.
Image courtesy Davis Instruments