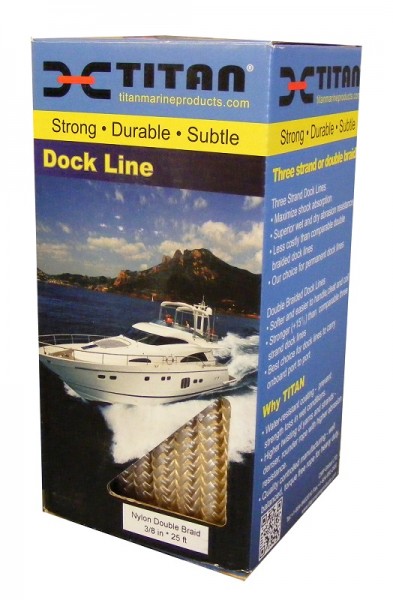 Essential marine accessories, fender and docking lines help protect the boater's valuable investment. Adding to its lineup of high quality Titan Marine chain products, Canada Metal (Pacific) now offers some of the most well-constructed dock and fender lines on the market. Made from a low-stretch polypropylene material with water-resistant coating, these durable lines remain strong yet supple.
The company's controlled manufacturing ensures that its pre-spliced Titan dock lines stay balanced and torque-free, with no unlaying, even under the heaviest loads. High twist yarns and strands create a dense, round rope resistant to abrasion and snags.
Titan three strand dock line delivers superior wet and dry abrasion resistance, ideal for use as permanent dock lines. Stronger than a comparable three strand line, the softer double braided version is easier to handle, cleat and coil for carrying onboard from port to port.
Three strand and double braided dock line choices include 3/8″ to 3/4″ diameters, 10′ to 35′ lengths, and strength ratings from 3,600 to 13,500 lbs. Color choices vary, including white, white/black, white/gold, black, red, blue, navy and teal.
Shock absorbent and easy-to-handle Titan fender lines feature a hand-crafted eye splice. They float in water and can even be stored wet.
The 6′ three strand white fender lines come in 5/16″ or 3/8″ diameters, to handle loads from 1,600 and 2,300 lbs. Double braided 6′ fender lines are available with 5/16″ or 3/8″ diameters, strength loads of 1,600 and 2,600 lbs. and color choices of navy, gold, black, blue, white or red. All fender lines come packaged in pairs.
The Titan family of chain products includes a full complement of premium strength anchor, windlass and mooring chain as well as rode and shackles. Prices for Titan dock lines start at $17.99; fender lines at $4.99.
Contact Canada Metal (Pacific) Ltd, 7733 Progress Way, Delta, BC V4G 1A3 CANADA. 604-940-2010; [email protected]; www.canmet.com.
Image courtesy Canada Metal (Pacific)