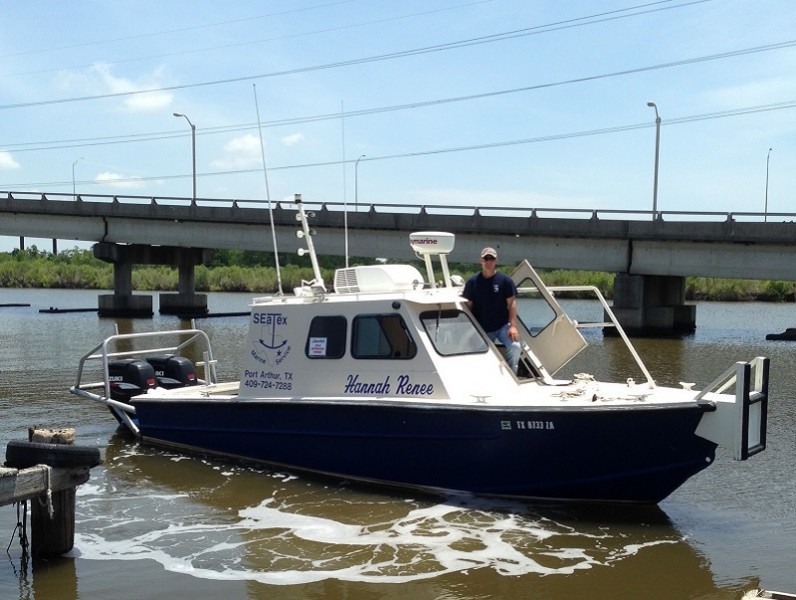 Capt. Ryan Ancelet, who has been running boats in the waters around Port Arthur, Texas, since he was 10-years old, is ready, willing and able to help boaters who run into trouble when they are fishing in Sabine Lake or the Gulf of Mexico, navigating local rivers or cruising the ICW.
SEaTex, the marine services company that Ryan owns with his brother Matt, has joined the nationwide BoatUS on the water assistance network as an official "listed tower." That means SEaTex will provide towing services 24-hours a day, 365-days a year to members with annual on the water boat towing plans, as well as offering assistance to any boater needing a little routine help, including battery jumps, soft ungroundings and fuel drop-offs. Boaters can contact SEaTex in Port Arthur by hailing on VHF channel 16, calling the local office at 409-724-7288, calling the BoatUS toll-free 24/7 Dispatch Service at 800-391-4869, or via smartphone with the free BoatUS Towing App. BoatUS is also the only towing service that offers satellite messaging services with the SPOT and InReach satellite communications services. To see SEaTex's on a map, go to BoatUS.com/portarthur.
Much like an auto club for recreational boaters, TowBoatUS offers an on the water towing service plan for salt waters that costs just $149 a year and includes Boat Owners Association of The United States or BoatUS Angler membership. Six-pack charter fishing and delivery captains have a commercial towing plan available for $281. Without a towing plan, boat owners face out-of-pocket costs that nationally average about $600 per incident, or $250 per hour. More information can be found at BoatUS.com/towing or call 800-888-4869.
The Ancelet name is well known in Southeast Texas. Ryan and his brother own Ancelet's Cajun Market and Ancelet's Marina, which is located under the Rainbow Bridge in Port Arthur. The marina has a launch ramp, boat slips, a seasonal restaurant with live music every Saturday night, and is homeport for SEaTex's towboats. The brothers started SEaTex about four years ago to transport supplies, equipment and personnel to ships and offshore oil rigs. About two years ago they began the recreational boat towing business. Joining the BoatUS fleet was the next logical step.
"The marine industry is in my blood, and I love helping people," said Ryan, who holds a 100-ton Master License from the US Coast Guard and runs the on the water end of the business. The company has two towboats – a 30-foot aluminum boat powered by twin 200-horsepower Suzuki outboards and a 21-foot aluminum response vessel powered by twin 90-horsepower Suzukis. Both boats have dark blue hulls and beige wheelhouses and are fully rigged for towing and salvage, with powerful pumps, battery jump packs, dive gear and extra fuel. SEaTex can easily assist boaters on inland waterways, Sabine Lake and up to 25 miles in the Gulf of Mexico.
While Port Arthur is a major commercial port with oil refineries and LNG facilities, the area, including Sabine Lake, is one of the best fishing spots along the Texas Gulf Coast. Other nearby TowBoatUS ports are located in Lake Charles, LA and in Texas at Clear Lake, San Luis Pass, Freeport, Port O'Connor and inland at Lake Conroe.
Image courtesy TowBoatUS