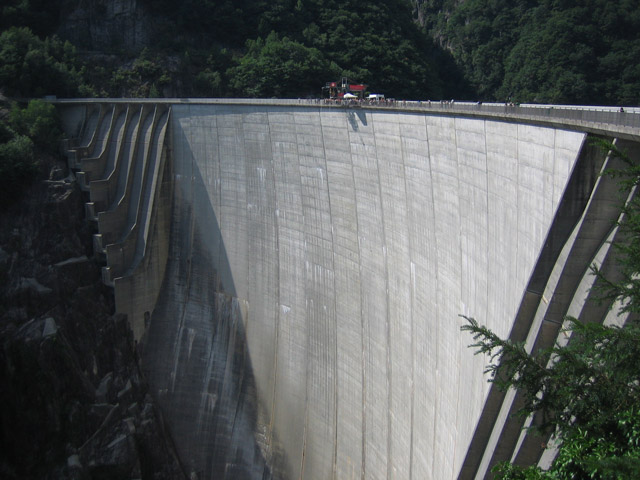 Outdoor Interlaken, a company in Switzerland that caters to people who want to ski, raft, and skydive, among other activities, wants to create Europe's highest bungee jump location. The proposal details building a platform above the Isenfluh cliff, located in the Lauterbrunnen Valley near Wengen. It would provide a 250-meter jump (820 feet).
The company expects to bring in about 2,500 tourists each year through this attraction, mostly from the U.S. and Asia. Despite the additional business this could bring to the area, residents of the nearby village of Gündlischwand expressed concerns about the danger involved. The council has filed an appeal against the proposal.
"We already suffer from many BASE jumping accidents in the region," Peter Brawand, head of the village council, told 20 Minuten.
Bungee jumping at the Verzasca Damn in Ticino, pictured above, is the most popular location in Switzerland, made famous by the 1995 James Bond movie, Goldeneye. The 220-meter jump, which is the third largest in the world, would be outdone by the one Outdoor Interlaken is proposing. The highest jump in the world is currently the Royal Gorge Bridge in Colorado, which has a 321-meter jump. The proposed jump would come in at number two, next to Macau Tower in China.
Some of the concern from the village council stems from the more than 30 deaths that have occurred because of BASE jumping in the same area. One of the most notable deaths was back in 2000 when a bungee jump organized by Adventure World, located in Interlaken, went wrong. Matthew E. Coleman, a 21-year-old who was visiting Switzerland on a 10-day vacation, died after a bungee jump with a rope that was too long, crashing him into the ground.
According to an article by the Baltimore Sun, "The jump was organized by Interlaken-based Adventure World, the company that ran a canyoning expedition in central Switzerland last summer (1999) during which 21 people were killed in a flash flood." Now, years later, this company is no longer in business but critics of the new proposal cite these accidents as reasons why the bungee jumping location should not be built.
20 Minuten reported Outdoor Interlaken responded that bungee jumping is a safe and certified activity.
No news has come yet on whether or not this proposal will be accepted and if work on the jump will begin.
Image from Brh986 on the Wikimedia Commons