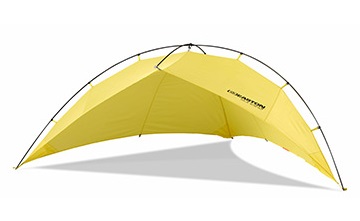 Shade shelter wins Outdoor Industry Award at OutDoor 2013 in Friedrichshafen, Germany
Easton's Sundial S shade shelter has been named for an Outdoor Industry Award at the worlds largest outdoor trade show, OutDoor 2013. The award recognizes outdoor products that have a particularly high level of innovation, design and quality that point to new trends in their respective categories.
"It's an honor to be recognized with this prestigious award by an international audience," says Easton Mountain Products' global sales manager, Rich Packer. "Easton strives to fit the needs of our users no matter their level of activity. From the river to the park, your favorite bouldering wall or basecamp, the Sundial makes for an excellent companion."
Easton Sundial S
MSRP: $99.00 USD
The Easton Sundial S is the lightest and most versatile convertible shade shelter on the market: the shade can be set up in a horizontal or vertical position in order to direct the shade where you need it most. It is lightweight, fast to set up, and perfect for one to three people. Plus, the Easton Sundial S offers a low-profile design, improving stability against wind and providing maximum shade.
Key Features:
• High Quality, lightweight and packable shade shelter that easily goes anywhere
• Converts to a sitting or standing position: Tilt it up or keep it low to get shade where you need it
• Freestanding design is quick to set up and move with the sun
• Trail Weight: 1lb, 14oz
• Materials: 75D Ripstop Poly with Easton premium 7075 T9 aluminum poles (Made in USA)
• Waterproof materials
• Total floor space (footprint): 29.5 sq. ft.
• Max height: 84 in.
Since 1922 Easton Mountain Products, a leader in precision built outdoor equipment, is dedicated to engineering the very best in technical outdoor gear for the serious user. At the core is Easton's proprietary manufacturing of high-strength lightweight aluminum and carbon fiber tubing. Decades of experience and dedication to quality Easton Mountain Products delivers dependable mountaineering, trekking, and winter products to help you Go Farther™ www.EastonMountainProducts.com www.facebook.com/EastonMountainProducts
www.twitter.com/EastonMtnProd
Image courtesy Easton Mountain Products