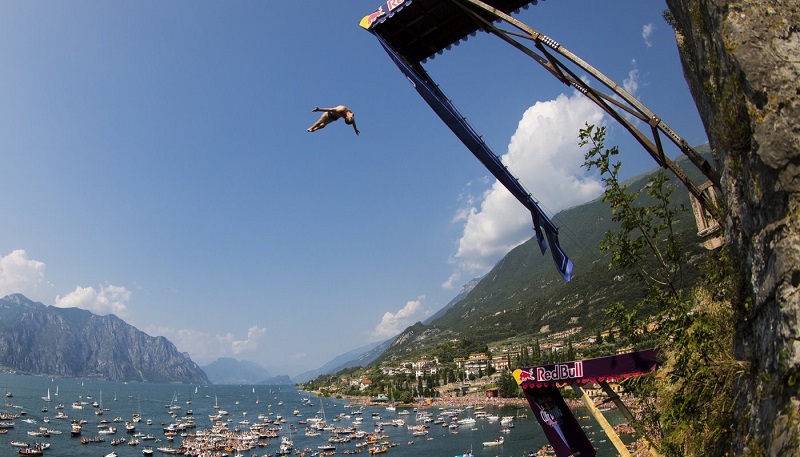 This summer, Red Bull is taking the world's most elite cliff divers to some of the highest points in Europe, Asia, and North and South America. To start off the second half of its season, the Red Bull Cliff Diving World Series will land in Boston on August 25. Divers will leap from atop the Institute of Contemporary Art into the frigid seawater of the Boston Harbor, just over 90 feet below. What could be a greater adrenaline rush?
The cliff diving competition follows the traditional high diving format, which requires divers to plan and present four dives to the five judges before taking to the cliff. The highest combined scorer is named the champion of that arena. But it is the one who accumulates the highest overall points after all eight competitions that will be named the Red Bull Cliff Diving Champion.
Gary Hunt currently holds that title, with two championship titles under his belt. The Englishman is a force to be reckoned with, having performed the most difficult cliff dive in the sports history in 2009, the back triple somersault with four twists, known simply as the triple quad.
Don't count out the newbies, though. Coming off his recent win in Malcesine, American David Colturi, who took his first ever podium in front of his home crowd last year, is eager to secure the top spot in front of his friends and family. The young diver from Ann Arbor, Michigan may be new to the sport, this being only his third competition, but he is definitely one to watch.
It is Orlando Duque, however, who is the real story of not just the Red Bull competition, but of the sport. The nine-time world champion is known as a living legend in the cliff diving world. After more than a decade of Olympic diving, he decided to pursue what he calls "the more natural form of diving" in 1999. Since then he has dominated the sport, securing the title of first World Series Champion in 2009.
No matter who you are rooting for, if you are looking for a thrill, this event can't be missed. To learn more about the divers and to follow the World Series progress, visit the Red Bull Cliff Diving Championship website.
Image courtesy Damiano Levati/ Red Bull Cliff Diving