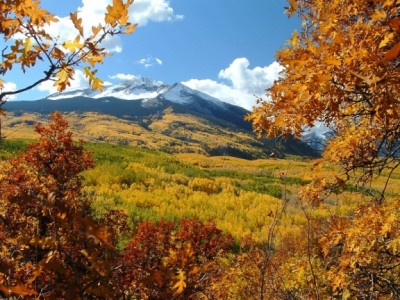 Fall is a glorious time to visit the Colorado Rockies with amazing fall foliage displays, outdoor activities galore and a jam-packed calendar of events in the Gunnison-Crested Butte Valley.  Sneak in a laid-back week in the mountains, gather the family for a campout and hike, or channel your weekend warrior spirit for some of the last running and biking events of the season.
Below is only a sampling of the many happenings in Gunnison-Crested Butte during autumn.  A full listing of September events and ideas for fall drives will be posted soon on the "September Splendor in the Rockies" website at www.SeptemberSplendor.com.
24th Annual The People's Fair, Aug. 31 – Sept. 1 
The Saturday and Sunday of Labor Day weekend marks the return of The People's Fair in downtown Crested Butte.  Hundreds of locals and visitors stroll Elk Avenue on Aug. 31 from 10 a.m. to 5 p.m. and Sept. 1 from 10 a.m. to 4 p.m. to take in this homespun cultural experience and to soak in the last of the high-country summer.  The People's Fair features an eclectic mix of approximately 70 booths showcasing regional arts and crafts, collectibles and antiques, and preserved foods from local gardens as well as live music, a tasty fair food and nonprofit organization booths.  The People's Fair is made possible by the volunteer efforts of the artist members of The Paragon Gallery, a cooperatively owned arts and crafts gallery in downtown Crested Butte.  For information, email [email protected] or call (970) 349-6484.
West Elk Bicycle Classic, Sept. 1
Ride with local biking legend Dave Wiens during the second annual Dave Wiens West Elk Bicycle Classic (WEBC), a 134-mile gran fondo or timed tour (a 100-mile option also available).  The ride climbs 9,300 feet from Gunnison to Crested Butte, circumnavigating the West Elk Mountains, and benefits Western State Colorado University Mountain Sports, which Wiens oversees.
Much of the route was used in road racing in the 1970s and 80s and more recently with the US Pro Challenge stage race, with the start at 7 a.m. at Western State Colorado University in Gunnison.  The first 100 miles of the course consists of very smooth and nearly car-free pavement with a few steep climbs through amazing vistas along the Black Canyon of the Gunnison.  It drops to a low point through the orchards and farmland around Paonia, and then climbs to Kebler Pass, where the road turns to hard-packed dirt for 25 miles with some short stretches of pavement.  The official time will be taken at the top of Kebler Pass followed by a neutral coast to the finish and a party in Crested Butte.
The cost to register is $120 until July 31, $130 until Aug 24, and $145 until the day of the race.  For details and registration, go to www.westelkbicycleclassic.com
Crested Butte Mountain Runners Trail Runs, Sept. 1, 21 & 26
This local running club wraps up a season of 14 fun runs with three events in September.  On Sept. 1, run one of Crested Butte's classic bike rides. Start on Cement Creek Road and run up the Reno Divide road. At the top either take Reno Ridge trail over to Deadman's Gulch or run Flag Creek to Bear Creek and then Deadman's Gulch trails. The long course is about 20 miles and the Reno Divide course is about 13 miles. The cost is $5 for non-members
On Sept. 21, choose between a half marathon and a 19-mile course for the Camp 4 Coffee Cart to Cart, starting at 8 a.m. The 19-mile course will run from Crested Butte to Crested Butte South where Camp 4 Coffee has locations via several trails, and half marathon participants start on Brush Creek Road and follow the 19-mile course to the finish.  The entry fee is $20.
For a more mellow, 4-mile outing, run with Crested Butte's high school cross country team from Crested Butte to Peanut Mine and back on the old railroad grade.  Meet at Totem Pole Park at Third Street and Maroon Avenue at 5:45 p.m. for registration, with the event beginning at 6 p.m. and ending with pizza at The Brick Oven.  The cost is $5, with all proceeds benefiting the Titan Booster Club.  For all the details, visit www.cbmountainrunners.org.
Festival of Beers/Chili Cook-Off & Gravity Slave Weekend, Sept. 7 – 8
Give a toast to autumn at Mt. Crested Butte's 14th Annual Fall Festival of Beers & Chili Cook-Off, held at the base area of Crested Butte Mountain Resort (CBMR) on Sept. 7.  Taste a wide range of microbrews from approximately 20 craft brewers (primarily from Colorado) and sample scrumptious chili recipes, all while listening to great live music from noon to 4 p.m.  A celebrity panel of judges for both the beer and chili will be on hand, and participants get to chime in with People's Choice awards.
There is no cost to enter the chili cook-off, just cook up three gallons of in advance and compete in one of several categories.  Chili sampling will run from noon until 2 p.m. or whenever it runs out. Call the Crested Butte-Mt. Crested Butte Chamber of Commerce at (800) 814-8893 or visit the festival's new website www.cbbeerfest.com when it launches in the near future.
Make it a weekend by enjoying the Adventure Park, taking a zip line tour, riding the Red Lady chairlift and watching or participating in the Gravity Slave mountain bike race at CBMR on Sept.  8. This is one-run downhill race in Evolution Bike Park with pro and amateur age classes.  Call (970) 349-2211 and visit www.skicb.com.
Vinotok, Sept. 15 – 21
The name alone signifies that this is a unique and memorable festival.  Meaning "fall wine festival" in Slovenian, Crested Butte's Vinotok begins on Sept. 15 and culminates on Sept. 21 after several days of celebrating the bounty of the summer harvest and gathering the community before winter descends on this ski town. The 28th annual Vinotok kicks off in tandem with the Crested Butte Farmers' Market/Celebration of the Harvest Mother on Sunday, Sept. 15 with a booth for wreath making, grump boxes, costume items and more.  On Sept. 16 and 17, Vinotok founder Marcie Telander and the Vinotok Theatre Troupe will share the ancient traditions, multicultural stories and mythology of the festival.
The following evening, hear tales of Crested Butte typically told around the pot belly stove at Crested Butte Mountain Heritage Museum.  On Thursday night, it's all about tall tales, whoppers and adventure stories blown out of proportion at Liar's Night and the long-awaited announcement of the Green Man (a symbol of the virility of the returning spring), followed by a community feast and entertainment on Friday evening.
The Saturday of Vinotok, Sept. 21, is the high point with a cast of medieval characters featuring maidens representing the 12 months of the year, accompanied by torchbearers and flag bearers singing and dancing in the streets and restaurants in the early evening. As night falls, a street theatre production is held on Elk Avenue and concludes with a procession to the large parking lot behind the visitor center for the burning of the Grump (a 20-foot-tall iron figure stuffed with townspeoples' written-down grumps) and a bonfire.
Locations, times and costs for Vinotok happenings will be announced soon and posted on the event's Facebook page.  For information, call (970) 349-6509.
Waunita Living History Days, Sept. 20 – 21
Go back in time with Waunita Living History Days hosted by Waunita Hot Springs Ranch, located east of Gunnison. The Civil War Living History Association will be on-site wearing period clothing, giving demonstrations and talks, and providing a visual idea of how things happened during this historical period.  Live music, food vendors and more will be part of the fun.
Finish off the days with a soak in the ranch's hot springs-fed pool ($10 for adults and $5 for kids 12 and under) or spend the night at the ranch, with bed and breakfast options available in fall, winter and spring months.  For more details, visit www.waunita.com or call (970) 641-1266.
Crested Butte Film Festival, Crested Butte, Sept. 26 – 29
Always the last weekend in September, Crested Butte Film Festival takes place during the peak of fall foliage season. Expect four days of viewing the best of international cinema, discussing films with filmmakers and easily walking or riding a cruiser bike from venue to venue.  More than 90 films will be screened, ranging from narratives and documentaries to outdoor adventure and shorts.  There will be bike parades, giveaways and pass options that make it easy and affordable to enjoy all four days, including events.  A children's film program and several filmmaker talks will be offered at no cost.
Passes are available online at cbfilmfest.org and individual tickets will be sold at the door.  A complete schedule of events and list of films will be available online Sept. 1.  For more information, visit www.cbfilmfest.org or call (303) 204-9080.
Vacation Packages & Visitor Information
To save on flights, hotel rooms, vacation packages, car rentals and more, call the Gunnison-Crested Butte Tourism Association reservation hotline at (888) 559-0841 or go to http://book.GunnisonCrestedButte.com. For destination information, call (800) 814-8893 or visit www.GunnisonCrestedButte.com.
Image courtesy Gunnison-Crested Butte Tourism Association