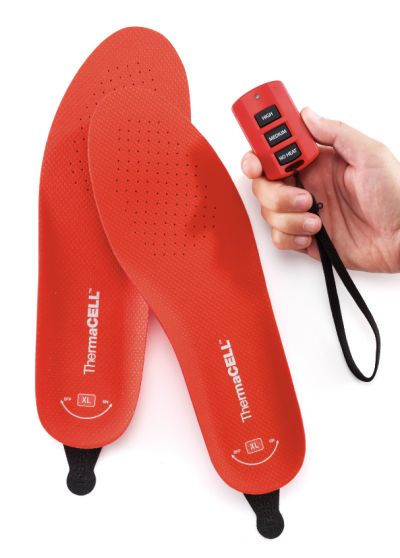 ThermaCELL congratulates the winners of their 2013 Heated Insoles Brand Challenge, a video and skit production competition highlighting ThermaCELL's new Heated Insoles – (http://www.thermacell.com/heated-insoles-foot-warmers).
The competition consisted of two categories, a video and a skit. The winner of the video category receiving a $3,000 prize is Magnum Global Media's TV show, The Zone with James Brion and Tim Herald.   The winner for the skit category receiving a $1,500 prize is Michael Waddell's Bone Collector. Both category winners will receive cash prizes and Heated Insole products for their recognition.
"We launched the contest this year and were pleased with the number of entrants and quality of the videos submitted," said Allegra Lowitt, vice president, Schawbel Corporation. "Entrants took the effort to convey the effectiveness of our Heated Insoles in many ingenious ways, making judging the competition quite challenging."
Contestants in the video competition were challenged with creating a short video showing product usage of the ThermaCELL Heated Insoles in the field, with points accruing for innovative branding, consumer education and product placement frequency.
Video Winner – http://www.youtube.com/watch?v=gPW4ZQTdU8Q
"We are honored to win the 2013 ThermaCELL Heated Insoles Video Challenge," said Herald, host and producer of The Zone.  "ThermaCELL is one of my longest relationships in the outdoor industry. It is easy to promote products that you truly rely on. James, myself and our whole crew at Magnum Global Media are true believers in both ThermaCELL Heated Insoles and Mosquito Repellent. Our guys worked hard to build this project, and I am glad their effort produced a piece that shows viewers the benefits of this great product."
The skit competition challenged the contestants to create footage of 30 seconds or less that provided information about the Heated Insoles that was entertaining, creative and included product education. Each contestant could submit up to three skits with their application.
Skit Winner – http://www.youtube.com/watch?v=xQfKzbUcSxE
"Winning the 2013 ThermaCELL Brand Challenge Skit Category is awesome," said Michael Waddell, host of the Bone Collector TV Show. "We had a lot of fun creating the skit and appreciate the great partnership we've had with ThermaCELL through the years.  Their mosquito repellent and now their Heated Insoles are great products, and I'm proud to have the Bone Collector name associated with a dependable brand."
ThermaCELL, a division of The Schawbel Corporation of Bedford, Massachusetts, utilizes patented technology to create comfort in the outdoors with ThermaCELL Mosquito Repellent and ThermaCELL Heated Insoles.  For more information on ThermaCELL's complete line of products or for retail locations, please visit www.thermacell.com or call 1-8-NO-SKEETERS. 
Image courtesy ThermaCELL