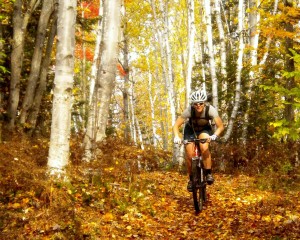 Take a few days to explore Carrabassett Valley by bike and foot!
Trip Itinerary:
Day 1: Park at the Outdoor Center and bike from the Campbell Field Trailhead up to our newest Hut, Stratton Brook Hut. Relax and enjoy a delicious dinner and a spectacular sunset from the Hut's high perch.
Day 2: After breakfast, grab your trail lunch and wave so-long to the hut staff before biking down the hill and onto the Narrow Gauge Trail for some fun single and double-track biking. Hang a left when you get to Huston Brook Rd. and about a mile down, park the cycle and hike through the woods to the nearby Huston Brook Falls for lunch (and a swim to cool off!) Then its back to the bikes and straight on to Poplar Hut for night two.
Day 3: Take your coffee at Poplar Stream Falls, just a short walk from the hut, before jumping back on the bike, past the hourglass ponds into the Bigelow Preserve. Park and hike up Little Bigelow for lunch and a view before heading back to Poplar for the night.
Day 4: Another tasty breakfast then bid au revoir to the Poplar hut crew and bike back to your vehicle at the OC.
Includes: 3 nights' lodging, 3 dinners, 3 breakfasts, 3 lunches
3 Nights from $252/person
Other Trip Options:
Only have time for 2 nights? This trip can be truncated to 2 nights/3 days by skipping the Bigelow hike. 2-night trip from  $172/person
Want a shorter day 4? Have your car waiting for you at the Poplar Trailhead! Call Greg Roy at (207) 329-3482 for a vehicle transfer. Additional fees apply.
Need some wheels? Rent a bike at the Outdoor Center at the start of your trip. Call Bob Ash at (207) 671-3560 for availability and pricing. Additional fees apply.
Image courtesy Maine Huts & Trails