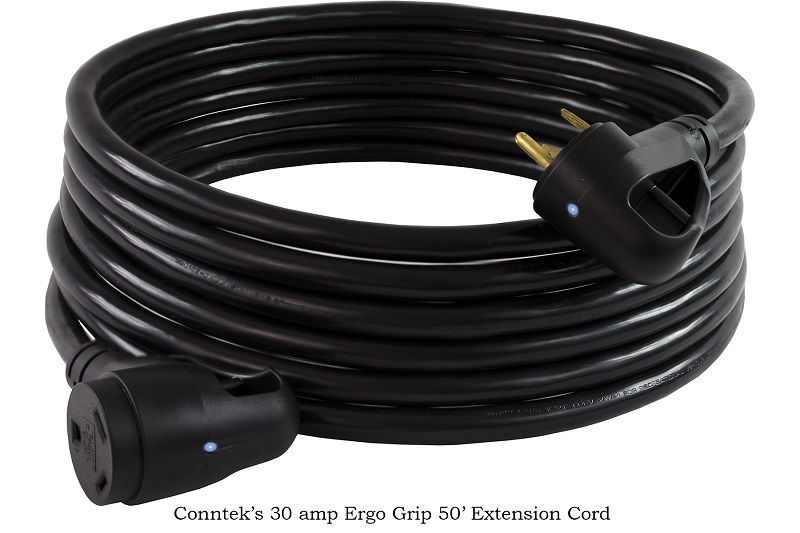 Difficult-to-remove cords can make RV life frustrating, even miserable, particularly for those who suffer from arthritis or other hand weakness. Ergo Grip adapter and extension cords from Conntek give users greater leverage, making cord handling a breeze.
The handle's ergonomic design, available only through Conntek, reduces hand fatigue and simplifies the task of grasping and unplugging cords. Injection molding gives the impact-resistant, all-weather cables increased strength. Handle and prongs are arranged at a 90° angle, reducing cord stress for added safety and long life.
Conntek's Camp Power line includes Ergo Grip RV adapter cords with a 30A, 125V rating in 25′ and 30′ lengths. Also available are 25′ and 50′ Ergo Grip RV 30A, 125V extension cords, and 15′ and 30′ Ergo Grip 50A, 125/250V extension cords. All feature built-in LED power indicators and Ergo Grip handles on both the plug and the connector.
Additionally, Conntek's Ergo Grip RV generator adapter cords offer a secure locking generator plug to a straight-blade RV side. Offered in a 1.5′ length, these have an Ergo Grip handle and LED indicator on the connector only.
Conntek's Camp Power 30 amp RV Ergo Grip 50′ Extension Cord has a retail price of $89.99.
Contact Conntek, 2122 E Birchwood Ave., Milwaukee, WI 53110. 414-482-0800; Fax: 414-482-0220; www.conntek.com.
Logo courtesy Conntek