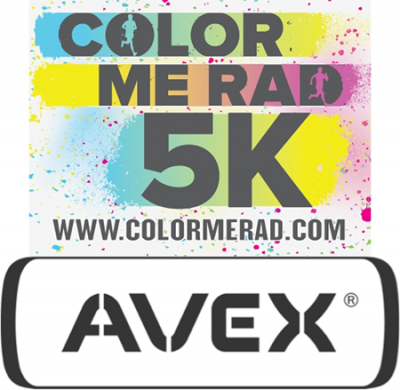 AVEX, innovator of travel mugs and water bottles for sport and outdoor enthusiasts, is pleased to announce its sponsorship of the Color Me Rad 5K series. Color Me Rad is a national series of 5K runs/walks/crawls that is encouraging people to "run for the hell of it," by promoting health and happiness without the stereotypical pressures of a traditional race environment.
Most notably, participants are showered in food-grade, non-toxic colorful powders over the course of the run. The result is a technicolor, tie-dyed explosion of hues and a sea of inevitable smiles.
"Avex loves to encourage participation in outdoor sports and focus on fun and community," said VP of Marketing and Product Development for AVEX, Todd Starr. "Color Me Rad is an event for people of all ages and all abilities. From the first read of the website to stepping across the finish line at the event, the organizers want people to celebrate the joy of running. And of course, AVEX is there to keep you hydrated every step of the way."
Participants in select Color Me Rad events will receive an AVEX water bottle. Additionally, Color Me Rad will sell branded, logoed AVEX bottles at every event.
With AUTOSPOUT or patented AUTOSEAL technologies, AVEX water bottles make ideal running partners. Both innovations in lid engineering offer one-hand, push-to-drink ease, which is spill- and leak-proof when disengaged. For a 5K run, either the Pecos AUTOSPOUT (24-ounce size) or the Brazos AUTOSEAL (25-ounce size) models will keep you self-sufficient and hydrated on-the-go. Since AVEX lids won't leak, the color earned from the Color Me Rad race remains intact and drip-free.
For hot climates, AVEX offers insulated options that will keep cold fluids cold for up to 20 hours. For runners who prefer to carry less water, the AVEX kids' line is a smart option. At 14-ounces, the Freestyle AUTOSPOUT Kids' bottles are super light, durable and easily carried by small hands.
Post-race, AVEX lids are supremely easy to clean due to the open architecture and durable materials. Simply throw in the top rack of the dishwasher or soak in hot, soapy water for 10 minutes. The remnants of the Color Me Rad event will be saved in your memories and in your shirt, not your water bottle.
For more information on AVEX, please visit: www.avexsport.com. For more information on the Color Me Rad 5K series, please visit: www.colormerad.com.
Image courtesy AVEX