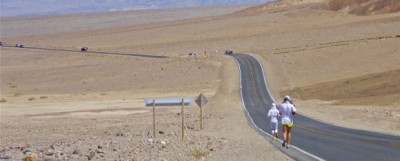 For some, marathon running just doesn't cut it. Ultra-racing is a great outlet for runners seeking to push their bodies to extremes. Of these extreme athletes, however, only a select few are courageous enough to attempt AdventurCORPS' Badwater 135.
Today, the 135 mile non-stop race from Death Valley to Mt. Whitney, CA. came to a close with 81 of the 96 racers crossing the finish line under the 48 hour time limit. Starting 282 feet below sea level in the Badwater Basin and ending at an elevation of 8360 feet at Whitney Portal, contestants braved temperatures pushing 120 degrees, even in the shade, as they crossed lakebeds and mountain ranges.
Finishing such a race is a pinnacle achievement for any ultra-runner, but it was Portugal's Carlos Alberto Gomes De Sa who came out on top, finishing in just under 24 hours and 40 minutes.
Race director, Chris Kostman, best explained the experience, saying, "It's pretty remarkable what people can do…In general, you can train your body to do a lot more than you think."
AdventurCORPS' website closely monitored runners, streaming the whole event via their website. If you missed it, you can relive the experience, here, at the archived webcast.
Image courtesy Badwater