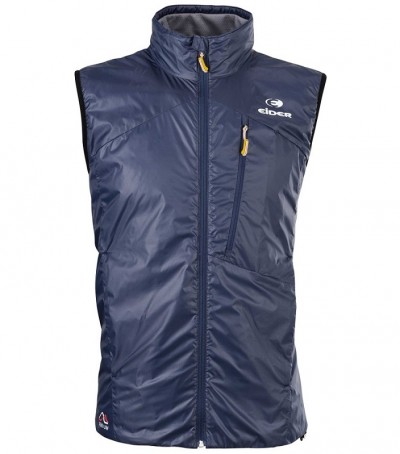 Polartec continues to innovate with new performance fabrics developed for partner brands
Polartec, LLC, the premium producer of innovative textile solutions, has developed a multitude of fabrics for its partner brands' spring 2014 collections.
Polartec Alpha, the first-ever breathable puffy fabric, will gain momentum from its fall 2013 consumer launch with several new adoptions in spring 2014 including Eider's Blow Alpha Sleeveless, LL Bean's Alpha Hybrid Jacket, Lafuma's Peak Alpha Fzip, and Crazy Idea's Half Blade.
Polartec NeoShell, the most breathable waterproof fabric on the market, will be used for the new Eider Blow Shell Jacket and Pant, technical shell garments for demanding mountaineers, LL Bean's NeoShell Bounder Jacket and Pants, and Reebok's CF LiteShell Jacket.
Polartec Power Dry, the next-to-skin fabric engineered to keep your skin dry when you sweat, is being used in lightweight shirts designed for aerobic activity including Norrona's Bitihorn Equalizer+ Zip Neck, and Vaude's Roseg collection.
Polartec Power Dry High Efficiency, the grid-backed version of the popular Polartec Power Dry fabric, is being used in the Brooks-Range Brisa Jacket, Eider Blow Light Tee, Lafuma LD Peak Dry Tzip and Fastlite Tzip Tee, Millet Red Needles collection and Trilogy TS SS, Rossignol Pro Team TS and women's Majesty TS, and The North Face Storm Shadows collection – all lightweight shirts and midlayers with exceptionally fast moisture transfer rates designed for highly aerobic activities.
Polartec Thermal Pro, the most visually dynamic lightweight, warm and highly breathable fleece fabric, is being used by Millet for its Lake XLOFT Jacket, and by Norrona for its new collection of falketind warm1 jackets and hoodies.
"These new Spring '14 adoptions represent the breadth of our performance fabric line, from lightweight next-to-skin fabrics, to fleece with distinctive looks, to breathable puffy packages, to extreme weather protection layers," says Allon Cohne, Polartec Global Marketing Director. "This announcement follows a significant investment in our product leadership team to bolster our position as the global leader of innovative textile solutions, and the partner of choice for product-centric brands."
Image courtesy Polartec